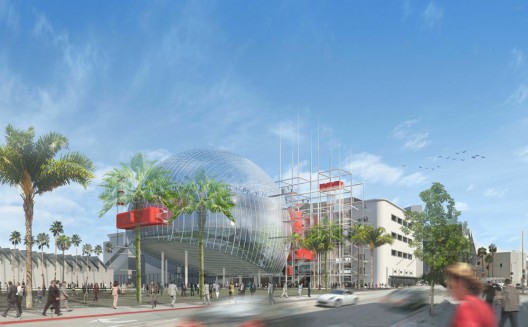 It's surprising to think that Los Angeles - the home of the U.S film industry – doesn't have a museum solely dedicated to its homegrown artform. However, all that is about to change should the Academy of Motion Pictures have their way.
Last Thursday, plans were unveiled for the long-touted Academy Museum of Motion Pictures, a new museum designed by Renzo Piano and native Los Angeleno architect Zoltan Pali, which will be located in the streamline-moderne Wiltshire May Company building at Wilshire Boulevard and Fairfax Avenue, on the campus of the Los Angeles County Museum of Art (LACMA). Although the designs are at an early stage, the released drawings propose to convert the historic building into a museum, while marrying it with a 140-foot-diameter glass dome.
Read more about the project after the break…
Award-winning architects Renzo Piano and Zoltan Pali will design the Academy Museum of Motion Pictures, the Academy of Motion Picture Arts and Science announced today. "Renzo's track record of creating iconic cultural landmarks combined with Zoltan's success in transforming historically-significant buildings is a perfect marriage for a museum that celebrates the history and the future of the movies," said Dawn Hudson, Academy CEO.
Piano designed the expansion of the Los Angeles County Museum of Art (LACMA), whose campus will include the upcoming Academy museum.
Pali, a Los Angeles native, is renowned for his Los Angeles-area restorations of the Greek Theatre, the Gibson Amphitheatre, and the Pantages Theatre, the latter earning SPF:a an LABC Award for Historic Preservation. For the firm's work as the executive architects on the renovation and expansion of the Getty Villa museum, SPF:a received the AIA Los Angeles Presidential Award.
The Academy Museum of Motion Pictures will be established in the historic May Company building, now known as LACMA West. Opened in 1939, the building is a 325,000-square foot art moderne landmark located at the corner of Fairfax Avenue and Wilshire Boulevard.