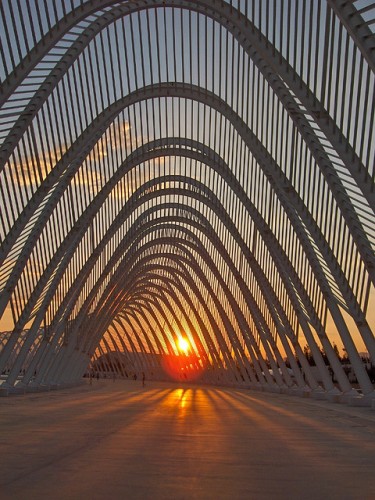 Welcome back and congratulations for having made it to the final installation of the Olympic City Guide.
So far, in parts I and II, we've learned how to design for your post-Games legacy (No White Elephants please) and to revitalize -not demolish- your city's most deprived "eye-sores" (Don't Hate, Rejuvenate).
So what's left? Well, in this post-Recession era of austerity, a huge part of your Olympic Strategy will be justifying the spending – the colossal spending – to your more than skeptical constituents. As I said in the last post, a good starting point is targeting urban renewal and being as transparent as possible, but another big element is how you market the Games – not just to the International Olympics Committee (IOC), but to your own city-dwellers.
So how can you get them both on your side? Simple - Go Green.
If you remember nothing else from  Part I of our Olympic City Guide, Your Very Own Guide to Successfully Hosting the Olympic Games, make it the GOLDEN RULE: "The best thing to do if you're bidding for the Olympics, Is to Not Get the Olympics."
As we explained in Part I, this take-it-or-leave-it mentality is key to Olympic success. See the Olympics as the Games, and, come autumn, you'll find your city littered with resource-guzzling, empty stadiums. See the Olympics as an excuse to get your plans for Urban Renewal into hyper-drive, and you'll get the gold: a publicity-hogging, urban makeover that will continue to make you profit years after the Olympic circus has packed up and gone home.
But Olympic legacy doesn't just come down to dollars and cents. It often means making a very real socio-cultural impact. Which leads us to our second set of Dos and Donts, starting with DON'T: Be Shady. And yes, we're looking at you Beijing…
Keep reading for the Dos and Donts of Olympic Hostdom, after the break…
So – you want to be an Olympic City do you? Well let's hope you're going for gold.
First of all, the Olympic bid is no child's play. You can spend millions just to prove (often unsuccessfully) your worthiness. And, if you do get the bid, who's to say that your Olympic Dreams won't be dashed by elephantine debts, colossal inefficiencies, and your own citizenry's open animosity?
Everyone may think the Olympics is all guts and glory, but frankly, the truth is far more complex. Which is why we've come up with a User's Guide – the Do's and Dont's to Hosting Your Very Own Olympics.
We'll begin with the GOLDEN RULE: "The best thing to do if you're bidding for the Olympics, Is to Not Get the Olympics."
Want to know the Cardinal Sins of Olympic Hostdom? Keep reading after the break…