NPR journalists David Eads and Helga Salinas have published a photographic essay by Patricia Evans alongside their story of Chicago's public housing. Starting with Evans' iconic image of a 10-year-old girl swinging at Chicago's notorious Clarence Darrow high-rises, the story recounts the rise and fall of public housing, the invisible boarders that shaped it and how the city's most notorious towers became known as "symbols of urban dysfunction." The complete essay, here.
"The works of our artists, architects, and preservationists provide us with another language of diplomacy. A transcendent language that allows us to convey values that are at once uniquely American yet speak to all of humanity.  Increasingly in this world, art and architecture help us maintain our sense of openness and liberation." — Former Secretary of State Hillary Rodham Clinton, April 12, 2010 
An embassy is much more than a building or a work of architecture; it functions as a symbolic representation of countries' relationships to one another.  It represents the universal language of diplomacy – "communicating values and ideals, extending well beyond any moment in time".  An embassy has the difficult task of representing two diametrically opposed concepts: security and openness.  The former typically overpowers the latter in importance, which is most probably why when we think of foreign embassies, it conjures up images of stately monolithic buildings surrounded by tall fences and menacing guards or "bunkers, bland cubes, lifeless compounds", according to Tanya Ballard Brown of NPR's All Things Considered.
More on the design excellence of embassies after the break…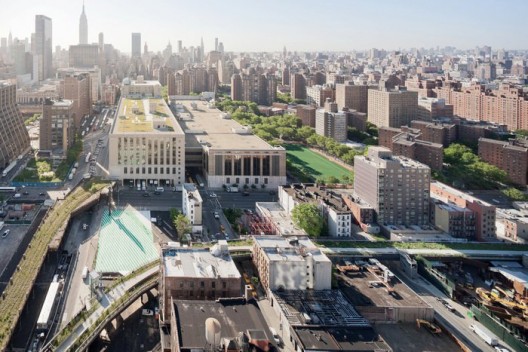 Urban planning is delicately intertwined with government.  As much as architects and designers try to avoid the overwrought laws and codes and prescriptive government policies that guide the construction and development of the urban landscape, they are very much a shaping force in cities such as New York.  Ask any architect working in a such as NYC and they will likely describe the bureaucratic hassles of working with outdated zoning regulations and restrictive building codes.  In this NPR segment Leonard Lopate interviews New York Magazine's architecture critic Justin Davidson to discusses the impact of Mayor Michael Bloomberg's planning policies on New York City's urban development.
Join us after the break for the link.