'I Like' is an original series on architecture and spatial intervention, developed in a collaboration between Canal 180 and LIKEarchitects atelier.
'I Like' is a multicolored urban kaleidoscope that reveals some of the most amazing architectural interventions in the world, in a series of 11 episodes organized by color.
'I Like' color is a chromatic experiment and spatial exercise curated by Diogo Aguiar and Teresa Otto.
'I Like' premiers on March 4th. Stay tuned!
Produced by Canal 180: a TV channel based in Portugal focused on culture, art & creativity
The Shell.ter pavilion, a temporary installation for the Cerveira Creative Camp, is built from monoblock chairs in the gardens of a natural park in the north of Portugal, during a short summer workshop by LIKE Architects. Resembling the most advanced digital formalizations of parametric design, the pavilion is actually set by the association of arches formed by ordinary chairs, which, rather than serving to seat, serve as shadow and backrest and create new frameworks that enhance the surrounding nature. More images and architects' description after the break.
Designed and constructed by Like Architects for the 2012 Oporto Show, the Chromatic Screen installation is an intervention representative of their ephemeral work that lies on the border between architecture, design, urban installation and art. The installation is designed using about 2,000 hangers for children's clothes from IKEA – 'Bagis' -, in four different colors – blue, green, pink and orange – that merge into multiple tonalities. More images and architects' description after the break.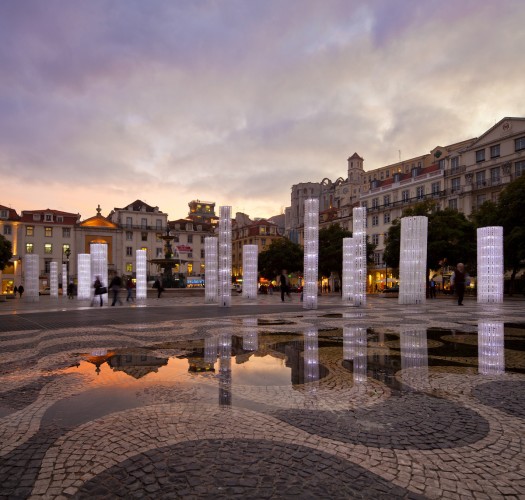 Designed by Like Architects, Frozen Trees is a temporary installation for Christmas lighting in D. Pedro IV square in Lisbon. It builds an illuminated, frozen and fractal Christmas landscape that affects and alters the path of passers by as thirty cylinders – structured, self-sufficient streetlights – are placed throughout the square, drawing a new landscape and context and inviting the visitors to new spatial experiences. More images and architects' description after the break.