Architects: CMD Ingenieros
Location: Kutaisi, Georgia
Year of Construction: 2011-2012
Design Team: Alberto Domingo Cabo – PhD in Structural Engineering , Carlos Lázaro Fernández – PhD in Structural Engineering, Juliane Petri – Civil Engineer. Master's Degree in Land Use Planning, Francisco Palacios Climent – Civil Engineer
Client: Kutaisi City Hall
Surface: 45,000 sqm
Budget: 82,000,000 €
Photographs: Courtesy of CMD Ingenieros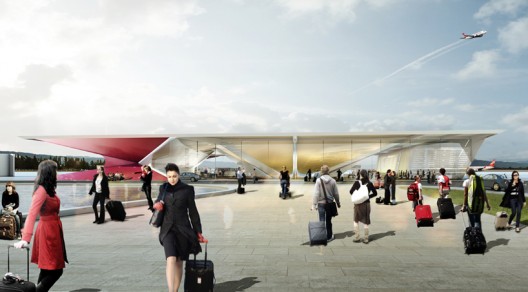 We are continually impressed by the variety of projects from UNStudio's office.  The firm just unveiled a new vertical city highrise for Singapore previously featured on AD, and recently, the Dutch studio's international air terminal and traffic control tower for Kutaisi was officially presented by Mikheil Saakashvili, President of Georgia.  The country is growing quickly and changing rapidly, with new tourist and economic activity, plus different political developments.  As such, the design for the new airport seeks to showcase Georgia new identity by providing a contemporary gateway to the country.
More about the airport after the break.