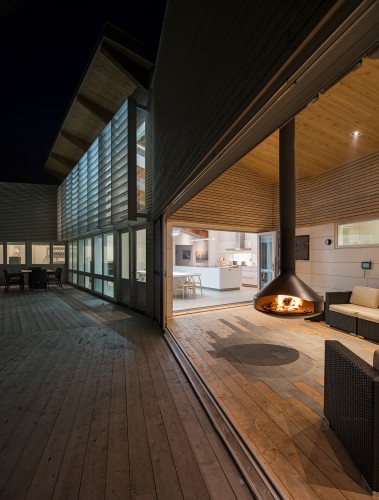 Architects: Omar Gandhi Architect
Location: Hunts Point, Nova Scotia, Canada
Project Year: 2012
Photographs: Greg Richardson Photography
In the past decade New York City's government, along with numerous organizations and design teams, have taken the initiative to revive the city's public spaces and reclaim underutilized areas that have long been associated with the city's manufacturing past.  We're all familiar with the High Line, a project that takes over the elevated rail lines of Chelsea and Meat Packing District that until several years ago stood as a desolate and eroding piece of infrastructure,  which was beautiful in its own way but largely underutilized.  Then there is the Brooklyn Navy Yard, which has become a mecca for designers, fabricators and research companies and has recently acquired a museum to celebrate its history.   And of course, there are the city's waterways, which, since New York City's early history, have served its manufacturing and trade economy, have become parks along the waterfront as part of the Hudson River Greenway and the FDR Drive.  Manufacturing has long been replaced by Wall Street, but there are parts of the city that still retain the industrial past along the historic waterfront and continue to operate some of the most important facilities that allow the city to function.  Now it is time to reintroduce a public use among these industrial zones.
More after the break!