Brad Feinknopf, a nationally recognized architectural photographer, kindly shared with us his recent photographic work on Zaha Hadid's Eli & Edythe Broad Art Museum at Michigan State University. Known for his traditional, yet cutting edge approach to photography, his quality work here emphasizes the unique exterior and interior spaces of the building created by Hadid's investigation into the lines of circulation and visual connections. Photographed during the day and night, he also captures its interface between city and campus. Additional images by Feinknopf can be viewed after the break.
Rio de Janeiro-based writer Robert Landon has shared with us his experience exploring Zaha Hadid's newly completed Eli and Edythe Broad Museum in Michigan.
As you approach Zaha Hadid's new Eli and Edythe Broad Museum in East Lansing, Michigan, it is the complex, light-catching carapace that first reels in the eye — a fine shock after the brick, neo-Gothic buildings that define the rest of the Michigan State University campus. Draw closer and its undulating fins, opening and closing in rhythmic asymmetries, begin to seduce the mind. In some places scrunched up into sharp angles and in others allowed to breathe for longer stretches across the low-slung facade, the fins seem to be the expression of some higher, grid-bending equation.
In a half-conscious attempt to solve the math, you begin to circle the building. At certain points, the fins spread wide enough for generous glimpses inside, but as you move keep moving, the inner secrets vanish again behind the metal lattice. In the same way, the relentlessly kinetic carapace tantalizes with, but ultimately eludes, any logical or definitive summing up. What is certain, though, is that, by the time you've come full circle, you'll have grown quite curious to see what is going on inside.
More after the break…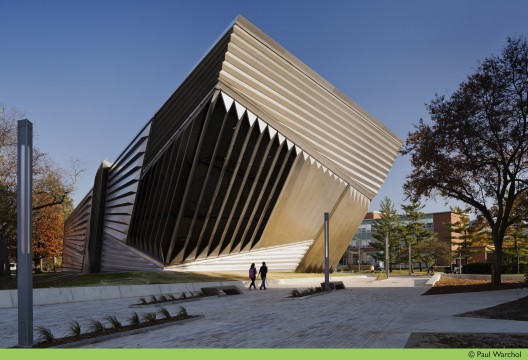 Architects: Zaha Hadid Architects
Location: Michigan State University, East Lansing, USA
Architects In Charge: Zaha Hadid with Patrik Schumacher
Project Director: Craig Kiner
Project Architect: Alberto Barba
Project Team: Michael Hargens, Edgar Payan Pacheco, Sophia Razzaque, Arturo Revilla, Charles Walker
Competition Project Director: Nils-Peter Fischer
Competition Project Architects: Britta Knobel, Fulvio Wirz
Competition Team: Melike Altinisik, Rojia Forouhar, Mariagrazia Lanza, Daniel Widrig
Area: 46,000 sqm
Year: 2012
Photographs: Paul Warchol