Architects: Had Architects
Location: Daqing, Heilongjiang, China
Design Team: Tang Jiajun, Wang Conglong, Ji Qiang
Area: 29,576 sqm
Year: 2010
Photographs: Wei Shuxiang and Tang Jiajun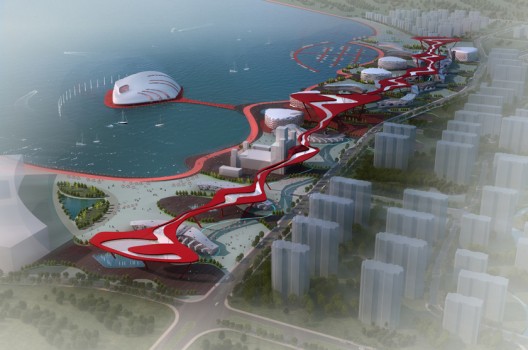 As the winning entry for a competition to design an arts and cultural square at Lake Sanyon in Daqing, China, the project by Chi Wai Chan examines the relationships between the elements of the water, the sky and the earth. A waterfront promenade that ensues the formal attributes and fluidity of the water, a 1,394 m long canopy with LED display that transpires the form of the clouds and a ground condition of self-similar marine lifeform that establishes the view corridors to the lake; these three design elements serve as the organizing apparatus for the design of the square. More images and project description after the break.