Galería AirMaster, located in the Puerto Nuevo Design District of San Juan, is the flagship store for the AirMaster brand. AirMaster is Puerto Rico's largest and oldest producer of aluminum windows and doors, and a local curtain-wall specialist. This adaptive reuse project recycled 85% of the previous structure's building envelope, and 92% of its total concrete and steel. Follow the break for photographs and drawings of this office building.
Architects: Urbana, CSP
Location: San Juan, Puerto Rico
Design Team: José Fernando Vázquez Pérez, AIA, Rafael Castro Montes de Oca, AIA, Yalmary Tirado López, Carlos Cruz Ortiz, Luis Cruz de la Paz, Carol Lora
Structure: José Miguel Ortiz
Mechanical: Rafael Parés, PE
Electrical: Carlos Requena, PE
Ilumination: Gianluca Picardi
Graphic Design: Sofía Saéz
Contractor: Hambleton Group
Parking: Julio Padín
Landscape: Olga Rubí
Signage: Sign Engineering
Water Features: Jesús Sánchez
Photographs: José Fernando Vázquez-Pérez and Kenneth Rexach
Galería AirMaster, a third-generation family-run business, which originally specialized in ready-made products for hardware stores, wanted to expand into the high-end custom market. AirMaster had developed a solid reputation for reliability through their ubiquity at the island's Home Depots, and had also cut its construction teeth as the Caribbean provider of Kawneer architectural products. Nevertheless, it wasn't widely regarded as a premium brand, nor was it the first choice for architects dreaming of complex building-envelope solutions, a perception they needed to change in order to compete in the budding upscale regional market which, in addition to Puerto Rico, serves the Virgin Islands, the Dominican Republic, and Panamá. Thus, in the spring of 2008 AirMaster asked Urbana to help revamp their profile, and design a concept store that would allow their clients to visualize the possibilities of their product line in an instructive, and contemporary setting.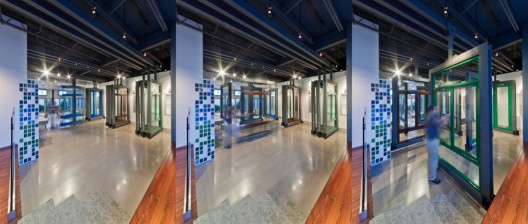 The client had previously purchased two properties to develop the new facility: a two-story, 3,000 square foot structure that previously served as a house/art gallery, and a partially demolished house in the rear lot. The later served as staging area for the main construction project, and later was converted into parking. The architectural brief called for maximum showroom space throughout the building, and for ancillary administrative uses including office space, a studio-like work area for their staff, and a conference room. The client also requested that the showroom space be able to easily convert for gatherings and seminars without requiring major effort.
The architects design scheme peels away the old façade and roof of the original building, and transforms it into an architectural mannequin for the manufacturers' products. The intervention is based on the abstraction of a louvered window, the company's first product 40 years ago [as evidenced by their logo]. The archetypal "window", brought to a billboard scale, was segmented vertically, transformed horizontally with transparent and opaque elements, and folded backwards, becoming the premise for the building's new glass and aluminum façade-roof. The "re-skinning" strategy not only brings natural light into both floors, but literally raises the roof on the second story [which previously stood at 7'10"], creating a new atrium for their "design" and sales staff. Programmatically the project is divided into showroom space in the first floor, and administrative space in the second. The retail area is characterized by its display mechanisms [oversized, movable steel frames suspended from the ceiling for presenting their door models, and operable wall nooks with pivoting aluminum cases for displaying their windows and entry-door products], while the administrative area on the second floor is defined by a massive curtain-wall which folds into a double clerestory ceiling that illuminates the interior space.
Sustainability Notes
The underlayment for the posterior parking area was constructed using demolition rubble, and all new concrete walls were specified for a minimum of 20% recycled fly-ash content. The building uses a high-efficiency air-conditioning system, and a combination of natural and low-energy illumination throughout [all of the interior spaces, except the restrooms and the kitchenettes, are naturally lit]. The structure captures rainwater for sanitary drainage and landscape watering, while the custom curtain-wall-roof system, based on Kawneer's 1600 PowerWall, is wired for photovoltaic panels as a test-bed of solar technologies [AirMaster is currently conducting trials on different building-integrated photovoltaic modules for application in their own product line]. The lumber flooring and plywood cabinetry was manufactured using FSC-certified wood, and finished using water-based, zero-VOC coatings. All the bases for the custom work-desks and tables were manufactured using surplus steel channels from shipping crates of aluminum stock.