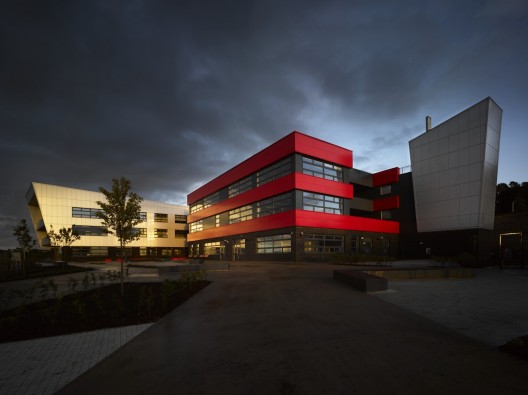 Architects: Nicholas Hare Architects
Location: Haslington Road, Manchester, UK
Architect In Charge: Nicholas Hare Architects
Area: 8,673 sqm
Year: 2012
Photographs: Andy Haslam
Contractor: Balfour Beatty
Quantity Surveyor: Turner & Townsend
Structural Engineer: Ramboll
Services Engineer: Hoare Lea
Landscape Designer: Farrer Huxley Associates
Blackburn Central High School with Crosshill (SEN) amalgamates three existing schools. The population of the new school, for 11-16yr olds, will be 900 mainstream and 60 special needs students.
The new school sits on a steeply sloping and extremely prominent location overlooking Blackburn and draws students from diverse local communities, which have very significant levels of social deprivation.
The basic diagram loosely wraps the learning accommodation, around a central 'heart' space that combines assembly, performance, dining, study and exhibition and views to the surrounding landscape are maximized, aiding orientation and celebrating the institution's place in the community.
"Nicholas Hare Architects have designed an excellent building in which to educate young people. The imaginative use of natural light and a simple but striking colour palate help to create an open and positive working environment in which staff and students can thrive"
Alan Chambers, Head – Blackburn Central High School