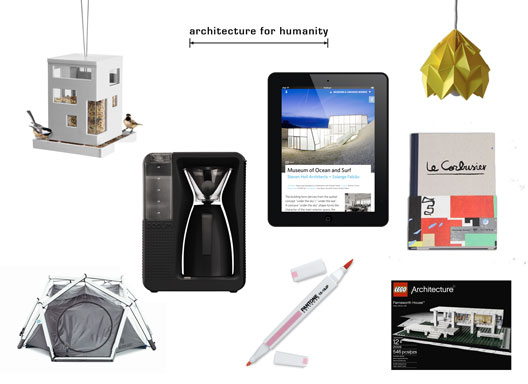 Sure, you could just go for the old, reliable "black turtleneck" again this year, but where's the fun in that? This year, why not get the Architects in your life a gift we know they'll love? We've culled the "For Architects" page of our Pinterest to bring you the 12 pinned products – from a Geodesic Dome tent to LEGO Architecture – that are guaranteed to please (plus, we've added an extra 2 goodies to treat yourself too). See them all, after the break…
WHAT: Umbra Bird Cafe Hanging Bird Feeder
WHY: Why shouldn't Architecture be for the birds?
WHERE: $29.67 on Amazon
WHAT: Limited Edition Modern Design Deck Actual Flash Card Set
WHY: Because one generally can't invest in 20 Designer chairs, but one can have 20 nifty pictorial representations!
WHERE: $49.99 by Jen Renninger on Etsy
WHAT: LEGO Architecture
WHY: Need we explain? A LEGO version of Mies' Farnsworth House? Corbu's Villa Savoye? Of Wright's Fallingwater? This is LEGO for grown-ups (FINALLY!).
WHERE: $64.99 on ArchDaily
WHAT: Moth Yellow Paper Pendant Light
WHY: Let there be angles!
WHERE: €59.00  / about $76.28 on Taska
WHAT: Guggenheim Museum Model
WHY: Every architect should have at least one masterpiece on his/her mantle. If not for inspiration, then at least for anti-procrastination purposes.
WHERE: $135.00 on Chisel & Mouse
WHAT: Le Corbusier: The Art of Architecture
WHY: Meet the Modernist Icon behind the spectacles.
WHERE: $136.21 on Amazon
WHAT: Pantone Universe Twin Markers, Set of 72 
WHY: Because these two-in-one markers (both a soft brush and a fine point marker) would make sketching a breeze. A colorful breeze.
WHERE: $154.65 on dickblick.com
WHAT: Hood Bike Hanger
WHY: Because nothing beats when stylish form meets oh-so-needed function.
WHERE: £144.00 / about $231.88 on Quarterre
WHAT: BISTRO Electric Coffee Dripper
WHY: Because anything that keeps our unhealthy relationship with coffee going strong, is fine by us. (PLUS: NO FILTERS!)
WHERE: $250.00 on Bodum
WHAT: Folded Mirror
WHY: Why ruin the beauty of a bare wall?
WHERE: €215.00 / about $279.33 on Made In Design
WHAT: Watches 9 (with concrete case)
WHY: Because what architect wouldn't want everything in his/her life made out of concrete if they could?
WHERE: €1,240.00 / about $1,616.59 on Dzmitry Samal
WHAT: Geodesic Dome Tent
WHY: Convene with nature and make Bucky proud, all at the same time.
WHERE:  €499.00 / about $648.30 on Heimplanet
WHAT: Sponsor a Day of Design, via Architecture for Humanity
WHY: If you believe that design can make a difference, make a donation in your (or a friend's) name today.
WHERE: As much as you want, at Architecture for Humanity
WHAT: ArchDaily's Building of the Year iPad App
WHY: Because you've been a good architect this year, so why not treat yourself to a nice, long browse of the best architecture around the globe (as voted by you, our lovely ArchDaily readers)?
WHERE: FREE on iTunes