Architecture schools ideally combines practical, intellectual, and theoretical skills which center on the production of physical projects. The key is to find programs that are able to provide a judicious cross-section of disciplines to develop one's critical and practical abilities. That is done either within the design program itself, or by providing access to other colleges and school campuses.
The University of Tennessee Knoxville is just such a school. It's College of Architecture + Design or CoAD has three distinct programs that include the School of Architecture, the Interior Design Program, and the Landscape Architecture Program. Clearly, this program offers students a wide range of design coursework, which is complemented by access to courses in UTK's colleges of Agricultural Sciences and Natural Resources, Engineering, and Arts and Sciences.
Read our CoAD profile after the break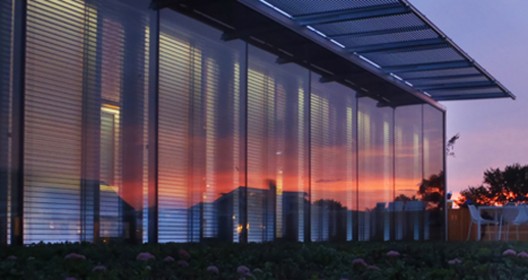 Good design is rooted in wide exposure and towards that end, CoAD also offers several study abroad opportunities. This past year alone, students had opportunities to study in Krakow, Poland, the Bauhaus University Weimar, Germany, and at the UT Finland Summer Architecture Institute. In other words, the academic resources at CoAD are poised to offer students a well-rounded education.
Graduate students are put on a "track" within the architecture program: Urban Design, Sustainable Design, Conservation & Stewardship, or High Performance Buildings. These form the basis upon which one's general architecture training is built. That specialization makes each person's skillset even more flexible. And all grad students have a faculty advisor who begins the mentoring relationship at the outset and heads the master's committee required for thesis and advancement to candidacy.
"Studio Culture Policy"
Another noteworthy aspect is CoAD's "Studio Culture Policy." This is worth quoting at length because it dispels some anxiety prospective students may have about the punishing studio schedules they may have heard about: "If you're not working 80 hours, you're not working enough!" Sadly, this is a true quote.
CoAD's approach is different: "Students who are exhausted, suffer from poor nutrition, substance abuse, lack of sleep, inadequate physical activity, or seldom interact with family and friends, cannot fully participate in and contribute to a healthy academic community. It is the instructor's responsibility to distribute a relatively equitable workload throughout the semester." Balance is an important component to a student's success and the program at CoAD values it.
While these are all positive aspects to CoAD's program, there is one element in particular that stands out. It is an outreach program called UPSIDE, or Urban Program in Sustainable Design Education. A volunteer studio run by Professor David Fox, it began with a premise of basic human rights: "There is long history of our profession being 'invisible' to inner city residents, resulting in design being an alien force. Many in these communities see architecture as a problem where the 'system' imposes a set of conditions and they have little control. They then twist 'urban renewal' into a pretzel implying 'urban removal'. Pruitt-Igoo, Cabrini Green and many other examples reinforce this perception. UPSIDE discusses these precedents in a seminar format that is part of the design studio. Design studios do not have to go to Haiti or the Ninth Ward to find difficult conditions. Though unglamorous, our most difficult social problems often exist in close proximity to most campuses in the United States."
To intervene and alleviate these social and economic problems, UPSIDE has taken a comprehensive approach to education, one that edifies not only architecture students, but high school students who live in disadvantaged neighborhoods, as well. The results are buildings that benefit an entire community. As Professor Fox explains, "The curriculum does not begin with basic design or graphic studies, but instead focuses intently on a building. It is vital that the high-school students have a piece of architecture as a product. We rely on SketchUp but also try to develop their freehand drawing and verbal presentation skills, stressing above all they become confident designers."
Another major goal "is to stress and teach that architecture is a means of empowerment. It is vital that all people, especially at the high-school level, understand that they have the ability to control and change their immediate environment. Urban segregation and poverty exist due to many specific, complex reasons with a 400-year past. It often comes as surprise to the white, upper middle class students that people in these urban communities are not living there by choice. They are trapped by a situation far beyond their control. UPSIDE is a an attempt to offer a way out, though we have far to go."
Tuition and fees
Admissions requirements are a 3.0 average for graduate students, 3 letters of recommendation, a personal essay, a portfolio, the GRE, and if applicable, a TOEFL or SPEAK exam. Undergraduate applications, with a  deadline of December 1, require a portfolio and is also based on GPA as well as SAT/ACT scores. Undergraduate tuition and fees are $4546.00 and, for out of state, $13791.00 per semester. The length of the program, for graduate students, varies from 1.5 to 3.5 years depending on one's educational background. Bachelor of Architecture students receive a 5 year professional degree.