Architects: gmp Architekten
Location: Phạm Hùng street, Cầu giấy District, Hà Nội City, Vietnam
Design Team: Meinhard von Gerkan, Nikolaus Goetze, Klaus Lenz
Project Year: 2010
Project Area: 30,000 sqm
Photographs: Marcus Bredt
The HanoiMuseum is embedded in a park with ample water features, where visitors already encounter exhibits from the history of Hanoi and reconstructed traditional Vietnamese villages on entering the museum landscape.
Within the square building, a central circular atrium links an entrance level with the three exhibition levels. These are arranged as terraces projecting further outwards on each higher floor, forming an inverted pyramid.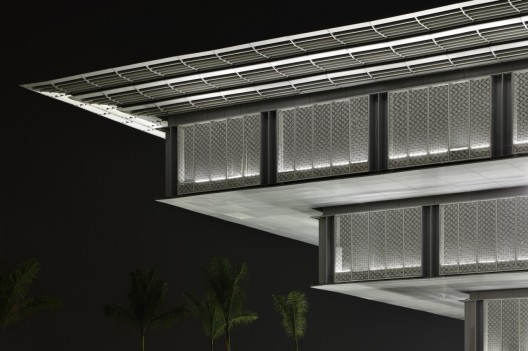 This leads to the shadowing of the lower levels which is part of the energy efficiency concept. By this, the exhibits inside are protected from the sun as well.
For visitors, the effect is that, looking out, they seem to be floating over the landscape. Visitors to the museum reach the upper levels via a spiral ramp. As the dominant feature, the ramp offers perspectives into the entrance hall and exhibition areas. Whereas the first to third floors are used solely for exhibition purposes, the fourth floor also contains conference rooms, research rooms, offices and the library. Air spaces there also accommodate particularly large exhibits. As in the circular central space, this means they can be given a setting, thanks to the indirect lighting from the roof lights arranged like windmill sails.