Architects: Tribe Studio Architects
Location: Surry Hills, Sydney, Australia
Project Team: Hannah Tribe, Ricci Bloch
Builder: JLS Construction
Structural Engineer: Damian Hadley – Cantilever Engineers
Project Area: 143 sqm
Project Year: 2011
Photographs: Katherine Lu
House Eadie is a heritage listed Federation workers' cottage in Surry Hills, Sydney. The brief from the client was to create a house that is at once toddler-friendly and also a great house for entertaining adults. The house was considerably dilapidated and very little heritage fabric had survived DYI renovations in the seventies.
Tribe's strategy was to reveal the irregularities of the original building fabric, and to honour the interventions over time. The original decorative brickwork of the front of the house was partially revealed by partially removing layers of paint. Historic paint dribbles are retained on stained glass windows. Poorly laid bricks are revealed. The house retains the romantic sense that it has been treated roughly by time and that it's origins are modest. The new elements respond to this heritage. The material selection is raw and direct. The house is aggressively unpretentious.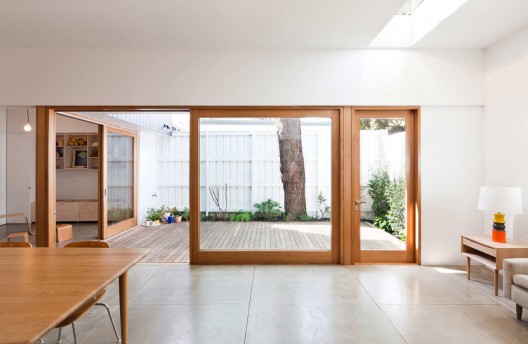 The living spaces are rearranged around the existing courtyard, allowing northern light to enter the house. Storage is shoehorned in at every opportunity, including a butler's pantry, wine storage and a pram garage.