Architects: Architecture Research Office
Location: Chilmark, MA (Martha's Vineyard Island), USA
Project Title: Martha's Vineyard House
Site: 104 Hammett Road, Chilmark, MA 02535
Gross Square Footage: 2,700 SF
Photographs: Elizabeth Felicella, Thomas Brodin, Bob O'Connor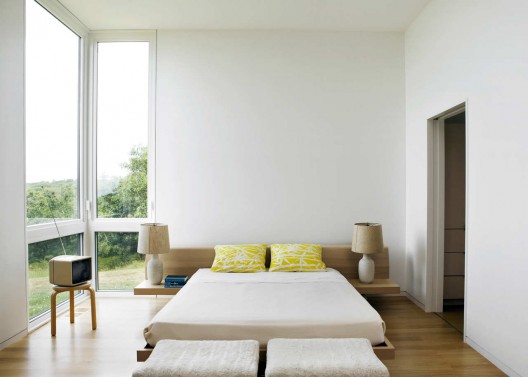 Martha's Vineyard House frames the transition from land to the strong horizontal datum and vast open space of the ocean. The house is situated against a gentle hill at the southern edge of a clearing in the woods, which offers an expansive view of the water. Three blocks containing different domestic programs are arranged to define a series of exterior spaces, including a protected entry court partially enclosed by the adjacent wooded slope.

Two perpendicular, L-shaped walls clad in cedar siding define the north and south blocks. Their horizontality, depth and texture accentuate the connection of the house to the site. The detailing of these walls, using two different widths and depths of specially-milled wood boards, echoes the shadows cast by the surrounding scrub oak trees. A laser cutter was a critical tool employed to explore phenomena of light, shadow, pattern and texture in the design of these walls. Contrasting in scale and orientation, standing seam zinc siding and wood windows comprise the balance of the house's enclosure.

* Location to be used only as a reference. It could indicate city/country but not exact address.