Architect: Chiasmus Partners
Location: Danwon-gu, Ansan, South Korea
Year: 2010-2011
Collaboration Artist: Sang Cho
Materials/products used: Steel Structure, Painted, Glass Curtain wall w/ Aluminum louver
Photographs: Youngchae Park
"Perched between two giant volumes of the existing building, Exit 45 is akin to a tree house, above the bustling campus activities. With its brilliant red color and striking volume, the project does not try to "blend-in" with the context. Yet, the interior space has the quality of a retreat. Through the filtered light and screened views, the interior feels even more like an "hide-out".
The interior "quieteness" and the exterior exuberance is the chiasmatic point of the project, and is the answer to the unique question," How can one feel at ease, inside of a spectacle?"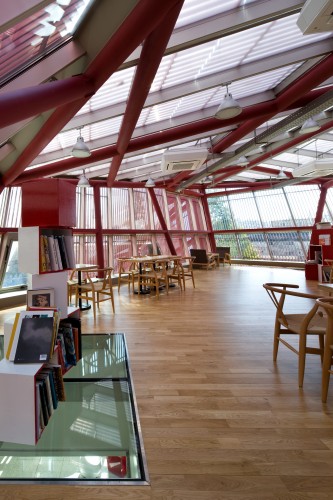 The exterior sunlight, activities, noise, all gets filtered and toned down, through the screening surface. Thus, the exterior world, (i.e. exterior spectacle) also becomes at ease with one's senses.
This is the essence of the project: a small red tree-house, full of irony, to just get away for a moment, so one can see all the spectacles of the world in a new light." – James Wei Ke