Architects: Kimmel-Eshkolot Architects
Location: Be'er Sheva, Israel
Project Team: Etan Kimmel, Michal Kimmel-Eshkolot, Ilan Carmi, Shachaf Zait
Client: INZ foundation
Project Management: Ramon Engineers
Structural engineer: Roy Assaf Engineering
Contractor: Minrav Engineering
Project area: 6,000 sqm
Project year: 2008 – 2011
Photographs: Amit Geron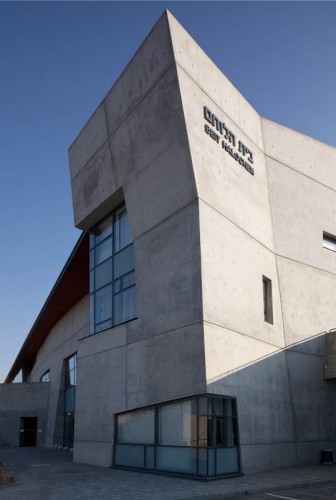 On the outskirts of Beer Sheva, where the city ends and the desert begins, the new "Beit-Halochem" rehabilitation center is built‫.‬ Desert sun and arid scenery served us as a source of inspiration to design a composition of rock-like volumes that are grouped together.
The "rocks" accommodate intimate and quiet functions, whereas the negative space between them creates gathering areas, and defines the circulation in the building. The alignment of these rocks, combined with the thin horizontal roof which hovers between them, creates an inviting and protected courtyard‫.‬
The fierce desert sun-light, which bounces off minor dents on the surface of the rock, creates an ever-changing appearance for the new IDF veterans' home.