For Weiss/Manfredi's International Retreat – a conference center for international organizations to discuss issues and politics –  the project exemplifies the firm's emphasis of the integration of architecture and landscape.  A series of existing early 20th-century buildings sit on the 400 acre site, and the project uses a network of gardens to create a framework for these renovated and programmatically transformed structures. More images and more about the project after the break.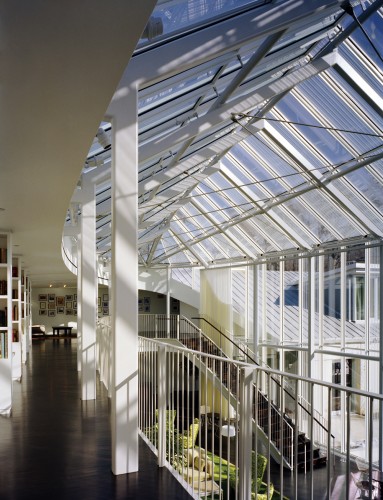 The landscape forms the organizing agent for the project as the new gallery wing for the informal gatherings sits at the center of these gardens.  Running north-south across the site, the landscape is defined by a linear reflecting pool, trees, crushed stone, and flowering ground cover whereas toward the south, the design is more of a informal setting of water, trees, and outdoor seating which defines the garden. The east-west landscape links the renovated garage and stables, capturing residual exterior spaces and turning them into cultivated gardens.
The interior and exterior programs intersect at the elliptically shaped glazed gallery, a double-height steel and glass gathering space perfect for informal conversations.   The gallery unites all the events that occur over the course of a conference due to its strategic placement between the formal conference center and the guest room wing.
Conceived as part landscape part building, the gallery takes cues from the existing conservatory structures located on the former estate, housing both real and artificial landscapes. Engineered and fabricated in Germany, the custom-fritted glass modulates and tempers natural light from above and the south.
The main conference room is internally focused, illuminated by an existing skylight. A series of overlapping wood wall panels with laser-cut perforations are calibrated to ensure acoustically balanced sound distribution throughout the room. The wood wall, which also accommodates extensive power and teledata requirements, mediates the scale of the white tile-clad garage and the elliptically shaped conference room table. Designed with the idea of focused discussions and informal conversations in mind, the retreat provides a layered set of relationships among the renovated existing buildings, new structures, and grounds, to remove boundaries between interior and exterior spaces. Credits Project: International Retreat Dates: 2002-2005 Lead Designer: Site Design / Architecture: Weiss/Manfredi Architecture/Landscape/Urbanism; Marion Weiss and Michael A. Manfredi (Design Partners), Armando Petruccelli and Clifton Balch (Project Architects); Matt Azen, Chris Ballentine, Michael Blasberg, Hamilton Hadden, Todd Hoehn, Jessica Spiegel, Yehre Suh, and Akari Takebayashi. Pre-design team: Kian Goh and Yehre Suh Consultant Team: Structural Engineering Consultant: Weidlinger Associates Consulting Engineers MEPFP Engineering Consultant: Jaros, Baum & Bolles Consulting Engineers Civil Engineering Consultant: Dvirka and Bartilucci Lighting Design Consultant: Brandston Partnership, Inc. Curtain Wall Consultant: R.A. Heintges Architects Consultants Landscape Consultants: Jim Stevenson and HM White Site Architects Traffic Consultant: Dunn Engineering Associates Cost Estimator: AMIS Inc. Geotechnical Engineering Consultant: Park Engineering, P.C. Food Service Consultant: Cini-Little International AV/Acoustics/IT/Security Consultant: Shen Milsom & Wilke, Inc. Fountain Consultant: CMS Collaborative Fabrics Consultant: Lee Jofa Gallery Curtain Consultant: Mary Bright Inc. Furniture Consultant: BG Partnership Owner's Representative: Roslyn Consultants, LLC