The Loop Residence is a new home situated on a rock outcropping several hundred feet above the ocean. A simple plan utilizing wood frames and a prefabricated roof structure, Heliotrope Architects designed a memorable residence with pristine views. Follow the break for photographs and drawings of this new home.
Architects: Heliotrope Architects
Location: Orcas Island, Washington, USA
Structural: Swenson Say Faget
Project Area: 2,400 sqf
Project Year: 2010
Photographs: Sean Airhart
This residence is situated on its site with a western view across the San Juan Islands. It is constructed of a prefabricated steel moment-frame roof structure with conventional wood-framed 'boxes' floating beneath it.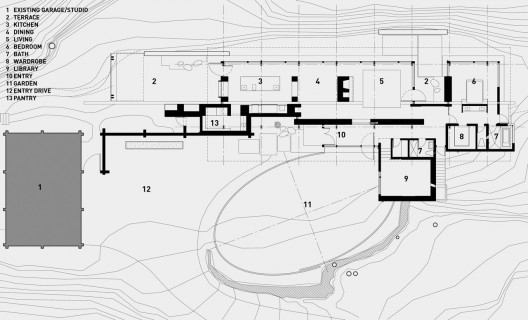 Exterior walls consist of a custom site-built teak and cedar curtainwall system, with the 'boxes' clad in fir milled on the property.
Other primary materials include a fir-slat ceiling milled on the property, flagstone floors and stone walls. The owners are building and landscaping the home themselves, with help from assorted highly-talented island craftspeople.