EGGER Trend Selection – The Premium selection for inspiring living and working environments
With the premium selection Trend Selection EGGER offers coordinated decor and product packages. The innovative design concept leaves room for individual accents and opens up fascinating possibilities in the design of interior flooring.
Find more information here.
With the EGGER Trend Selection, the team led by Klaus-Dieter Monhoff, Head of Design & Decor Management, has set a new milestone. The staging of harmonious overall concepts and individual highlights is child's play. Whether for the retreat at home, for the stylish combination of privacy and home office or for sophisticated commercial use: the EGGER Premium Selection inspires new ideas whose implementation sets its own standards with the highest quality and timelessly beautiful design.
The EGGER Trend Selection consists of three decor and product packages that open up fascinating possibilities: Pure Solids, Creative Functions and Interior Match.
Made for a long life: Pure Solids
Solid wood and parquet looks are in. Pure Solids goes one step further - and combines high quality and natural design with the valuable properties of laminate. EGGER Laminate Flooring is robust and easy to clean, flexible and quick to install and offers excellent value for money. Innovative installation looks find their place here just as much as classic country house floorboards.
Pure Solids contains of ten authentic decors, which fulfil all style wishes from reduced-elegant to powerfully striking and also reproduce classic parquet looks. With five different plank formats - Classic, Medium, Large, Kingsize and Long - small and large rooms can be optimally staged. Thanks to the easy-to-understand decor concept, customers can make their choice quickly.
See video at https://youtu.be/_av3kSfnFGw
Good combination: Creative Functions
Open spaces and flowing transitions: In times when living and working are moving closer together than ever before, variety and separation are in demand. Especially within a room whose division into defined areas does justice to all functions. Combine, contrast and match decors and floors to create exciting and vibrant interior designs.
With 9 decors and 17 article variants, Creative Functions comprises three overarching style concepts that extend across all EGGER flooring types: the Bedollo Walnut theme includes 4 colour-coordinated decors in the Laminate, Comfort and Design Flooring GreenTec product categories. The Berdal Marble theme combines classic oak with white marble.
The product range is complemented by natural oak decors from the EGGER PRO Flooring Collection 2021+, which is available as Laminate, Comfort and Design Flooring GreenTec. In this way, application-appropriate floors, such as the warm and soft Comfort flooring in the bedroom and the hard-wearing Laminate flooring in the living room, can be combined to form a harmonious whole.
The EGGER Design, Comfort and Laminate Flooring can be perfectly combined visually. This creates rooms and areas with their own character. They are colour and decor-coordinated, complete with variance and variability, and each has the desired property: from water-resistant, to warm and quiet, to resistant and of lasting value.
See video at https://youtu.be/S_3sSjRar7Y
Harmony in designs
For the first time, the EGGER Decorative Collection combines with the PRO Flooring Collection 2021+ with a selection of 30 decors the wood-based materials manufacturer is implementing the "Mix & Match" theme for the first time in such a comprehensive range. Architects, fabricators and also end customers thus have the opportunity to effortlessly realise contemporary and harmonious designs.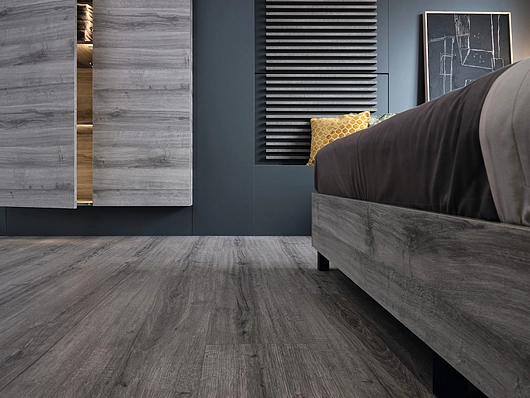 In "Interior Match", a distinction is made between same decor solutions and those that are colour-coordinated. In "Decor Match", floors as well as furniture and interior design products are available in the same decor with different surface textures. Customers can choose the same decor for floors, doors, the kitchen worktop or complete furniture, thus bringing harmony to their designs. "Colour Match", on the other hand, features decors that are colour-coordinated. With the products in the Interior Match, architects and fabricators not only convince with their ideas, but also with durable and sustainable products. EGGER acts sustainably, conserves resources and the climate and thus underlines its promise: More from wood.
See video at https://youtu.be/2zbcGfrlI3Q
Note: All our shown and mentioned decors are reproductions. Slight deviations between furniture and flooring decors are possible due to different surface finishes.