Tangentfield and Fourth Door Review's Roots Architecture Workshop which is back again this year. They are bringing a hands-on practical lo-tech sustainable building experience to a corner of WOMAD festival in Wiltshire UK from July 26-29. Each ticket entitles you to 4 full days of collaborative workshop challenge, WOMAD camping, 3 delicious lunches and full access to the wonders of WOMAD festival each evening. A unique experience and memorable experience, team leaders and helpers this year include representatives from 'Workshop', Charley Brentnall, 'Bamboo' Jack Everett, Architecture Sans Frontiers, Engineers without borders, Article 25, Architecture for Humanity, and even acclaimed Superbolt Theatre Company. All are invited to participate. For more information, please visit here.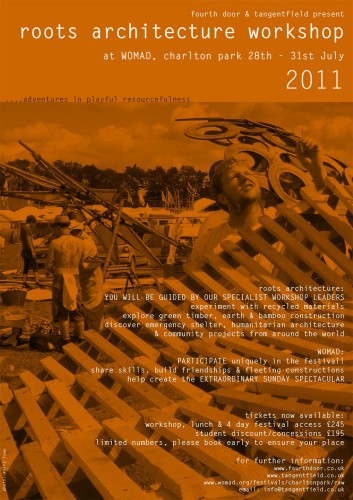 Last year, we told you about the 1st Roots Architecture Workshop. Now, they are doing a second run. Just as WOMAD brings together many forms of music, arts and dance from around the world, so Roots Architecture at WOMAD Charlton Park 2011 aims to celebrate the work of architects, builders and makers working on humanitarian and emergency shelter projects across the world. Roots Architecture will feature talks and an exhibition highlighting the growing worldwide humanitarian architecture and building community, against the lively backdrop of a practical building challenge.
Workshop participants will team together over 4 days to design and make 4 stages. Materials will be reclaimed, re-useable or sourced from Charlton Park itself. The finished structures will become part of the festival, hosting live performances during WOMAD's Sunday evening finale. Whether you're an experienced self-builder, or a practical newcomer, come and join our convivial workshop led and guided by experienced specialists. Learn about low-tech and no-tech building techniques and traditions from Britain and around the world. Sessions generally run from 10am – 4:30pm, so you'll still have plenty of time to enjoy the music.
For more information on this event, and to purchase tickets, please click here.