Architects: E.Miliuno studija / Dvieju Grupe
Location: Siauliai, Lithuania
Chief architect: Eugenijus Miliunas
Project Architects: Gintaras Balcytis, Algimantas Bublys, Eugenijus Miliunas, Linas Tuleikis
Project Team: Julius Baronas, Vytautas Calka, , Aurimas Ramanauskas, Kestutis Scevinskas, Kestutis Vaiksnoras
Urban Architect: Algimantas Cerniauskas
Structural Engineer: Audrius Razaitis
Client: Municipality of Siauliai
Contractor: AB Panevezio statybos trestas
Constructed Area: 19,600 sqm
Budget: € 21,500,000
Project year: 2005-2006
Construction year: 2006-2007
Photographs: Gintaras Cesonis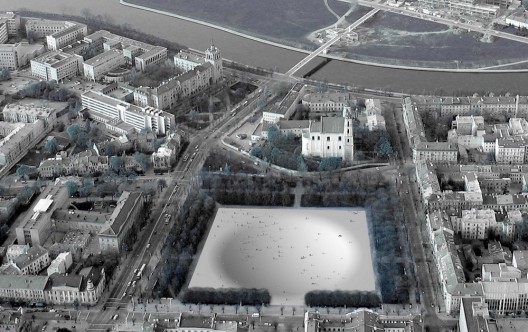 The design team of L. Tuleikis, R. Antinis, K. Vaikšnoras, K. Lanauskas, and P. Vaitiekūnas shared their competition entry for the renovation of Lukishkiu Square in Vilnius, Lithuania.  The competition highlighted "freedom" as the square was established for a memorial space.  The team's proposal consists of a gently carved out central Freedom Field, surrounded by sculptural compositions and an external flame along the perimeter of the site.
More about the entry after the break.