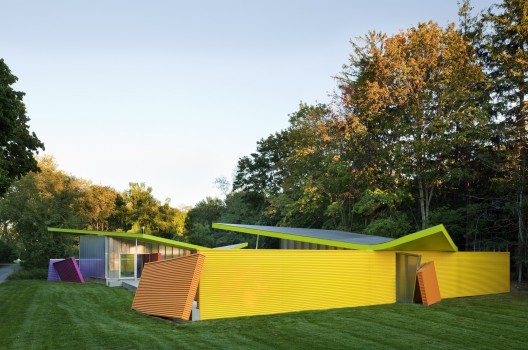 Architects: Stamberg Aferiat
Location: Shelter Island, New York, USA
Design Team: Peter Stamberg, Paul Aferiat, Keith Tsang, Joshua Homer, Ryan Harvey, Josh Lekwa, Anna Portoghese, Michael Bardin, Adam Greene, Jasmit Rangr
Area: 1,100 sq ft
Year: 2010
Photographs: Paul Warchol
YN-13 House is organized on its site as three independent volumes enclosing a courtyard-like space with a swimming pool at its center. The biased cut of the main house's pitched roof and its protruding corners underscore primary views of the landscape and ocean. Conceived as a buoyant mass and inspired by historic Japanese residential structures in Kyoto and Kanazawa, the house's unique siding design of western red cedar vertical battens and clapboard merge with the standing seams of the stainless steel roofing to visually unify the wall and roof surfaces.
Architects: Morris Sato Studio
Location: Shelter Island, New York, USA
Design Principals: Michael Morris & Yoshiko Sato
Project Architect: Jorge Salgado
Project Team: Stephan Hausheer, Ricardo Areias
General Contractor: Legacy Homes, Inc.
Photographs: Matthew Carbone and Morris Sato Studio