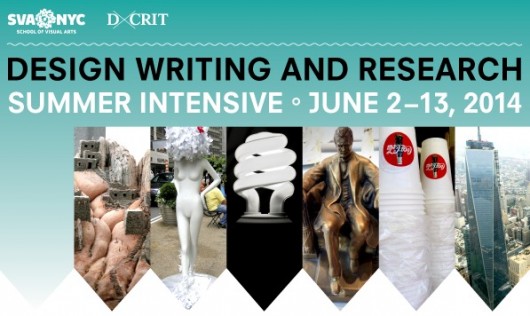 The School of Visual Arts MFA Design Criticism invites you to join them for a two-week intensive to research and write about design. Participants will be introduced to a range of techniques for constructing compelling narratives about images, objects,and spaces. You will experiment with different research methods, writing formats, and complete several projects across media, including a collaboratively produced publication.
Along with working closely with leading writers, editors, curators, and researchers, each participant will have their own workstation in D-Crit studio at Chelsea district in NY. A series of seminars, lectures, workshops, one-on-one consultations, along with visit to design collections, archives, libraries, design and architecture studios, will be part of the daily activities.
Application are due April 1, through the event's official website.
Title: Design Writing and Research Summer Intensive
Website: http://dcrit.sva.edu/intensive/
From: Mon, 02 Jun 2014
Until: Fri, 13 Jun 2014
Venue: School of Visual Arts, NY
Address: 209 East 23rd Street, New York, NY 10010, USA
The School of Visual Arts in New York is hosting their Spring 2012 lecture series which began on February 7 and continues until June 18. Their next lecture, Lunchtime Q&A with Michael Kimmelman, will take place on February 14 at 12:30pm. From public housing and community development to issues of social responsibility, The New York Times' Michael Kimmelman has already shaken up our traditional notion of what an architecture critic is supposed to cover. In this intimate lunchtime Q&A, Kimmelman will address questions relating to the role of an architecture critic, discuss the possibilities for the future of criticism, and suggest what a burgeoning generation of critics should take notice of. For more information on the event and the other upcoming lectures, please visit here.