Previously, we have covered the Ordos 100 project quite extensively, giving you an inside look at the Inner Mongolia development.  Back when Cai Jiang proposed the initiative to build one hundred 1000sqm villas designed by 100 up-and-coming architects in a mere 100 days, most questioned if the project was a hoax while others felt the development's free-for-all attitude would not yield a unifying strong result.   Yet, even with these concerns, the 100 firms responded to  Herzog & de Meuron and Ai Wei Wei's invitation to design the villas and transform a barren land.   However, this development took quite an unexpected twist.
Read more about the project after the break.
Beijing Sunlay Design Office designed a Protestant Church in Inner Mongolia that takes its inspiration from the land's topography.  Set on top of a hill of Ordos, the scheme, entitled "Dove of Peace" gives its metaphor and poetry to the church by re-interpreting a contemporary and abstract silhouette of the bird carrying an olive branch.  Made of concrete and with the facades finished in white crepi,  the church's form follows the adjacent curved road that crosses the site. "The dialogue between the outside and the inside space is emphasized by the play of shadows and light that creates complexity and depth in the reading of the space."  Delicate streams of light reflect harmony and tranquility, providing the perfect atmosphere for prayer and contemplation.
More images after the break.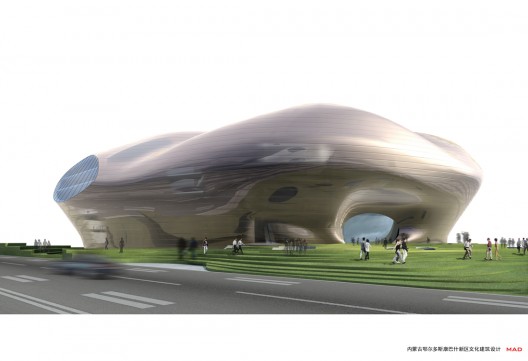 Architects: MAD
Location: Erdos, Inner Mongolia
Director in Charge: Ma Yansong, Yosuke Hayano, Dang Qun
Design team: Shang Li, Andrew C. Bryant, Howard Jiho Kim, Matthias Helmreich , Zheng Tao, Qin Lichao, Yang Lin, Sun Jieming Yin Zhao , Du Zhijian
Collaborators: China Institute of Building Standard Design and Research, The Institute of Shanxi Architectural Design and Research
Site Area: 27,760 sqm
Constructed Area: 41,227 sqm
Status: Under Construction
Client: Erdos Municipal Government
Images: MAD