Ever expanding population growth coupled with the continuous development of urban centres mean that buildings, in general, will continue to get taller. With the topping out of One World Trade Centre in May this year the worldwide competition to construct towers with soaring altitudes doesn't seem to be slowing, especially in China and the UAE. The question on many people's lips, however, is how much of these colossal buildings is actual usable space?
Elevators have been around for quite a long time; maybe not those that soar to hundreds of feet in a matter of seconds, but the primitive ancestors of this technology, often man-powered, were developed as early as the 3rd century BC.  These early wheel and belt operated platforms provided the lift that would eventually evolve into the "ascending rooms" that allow supertall skyscrapers (above 300 meters) to dominate skylines in cities across the world. Elevators can be given credit for a lot of progress in architecture and urban planning.  Their invention and development allowed for the building and inhabiting of the structures we see today.
Supertall skyscrapers are becoming more common as cities and architects race to the top of the skyline, inching their way further up into the atmosphere.  These buildings are structural challenges as engineers must develop building technologies that can withstand the forces of high altitudes and tall structures.  But what of the practical matter of moving through these buildings?  What does it mean for vertical conveyance?  How must elevators evolve to accommodate the practical use of these supertall structures?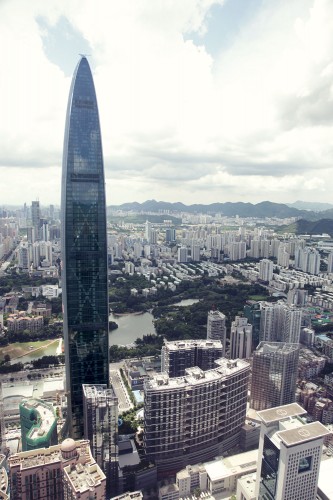 Every January the Council on Tall Buildings and Urban Habitat conducts a review of skyscraper construction and compiles all the data from the previous year. The trend since 2007 has seen record breaking years for buildings taller than 200 meters completed, with 88 skyscrapers completed in 2011. Even as the global economy is slowly recuperating from the 2008 financial crisis, it would appear as though this trend will remain relatively stable. China, leading the pack at 23 completed towers is predicted to remain at the forefront of skyscraper market, followed by Middle Eastern countries in the next decade.  UAE, South Korea, and Panama City – an up and coming cosmopolitan city – rounded out the top four. Of the towers completed in 2011, 17 have made their way into the top 100 tallest buildings – Shenzhen's Kingkey 100, at 442 meters crowning this year's list. More after the break.