Continuing our coverage of Kazuyo Sejima's exciting 2010 Venice Biennale, the International Jury of the exhibition has recently awarded a Golden Lion for the best project of the 'People Meet in Architecture' Exhibit to Junya Ishigami+ Associates, a Golden Lion for the best National Participation to the Kingdom of Bahrain, and a Silver Lion for a promising young participant to OFFICE Kersten Geers David Van Severen + Bas Princen.  We've featured Ishigami + Associates' work previously on AD, and his Venice exhibit explores similar ideas about transparency and structure evident in his elegantly simplistic Kanagawa Institute of Technology.
More about the project, including a video from Domus about Ishigami's project and beliefs.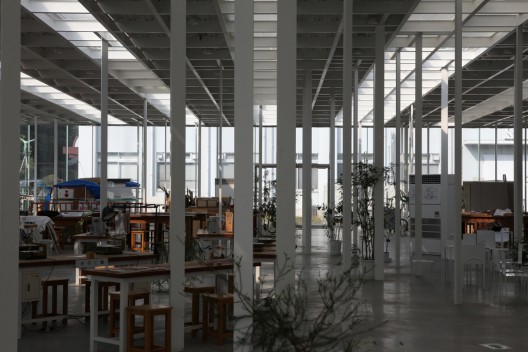 A few days ago, we introduced Junya Ishigami's Kanagawa Institute of Technology Workshop, a lightweight studio space with an interesting interior due to 305 slender columns. Our friend, Brandon Shigeta, shared his photos with us that illustrate Ishigami's technique of using column distribution as a space generator.  Although the slender columns appear randomly distributed, the architects' seemingly scattered order has created defined zones that subdivide the large studio workspace.
More images and more about the columns after the break.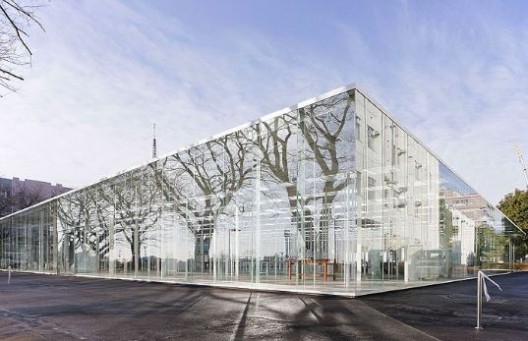 Check out Junya Ishigami and Associates' amazing studio + workspace where students of the Kanagawa Institute of Technology get to spend their days designing.  The studio is about the closest you can get to the feeling of working outside while being indoors.  The floor-to-ceiling glass makes the building appear weightless and elegant, and the open plan preserves the building's sense of transparency as the viewer's eye can shoot directly across the uninterrupted space.  305 columns of various sizes support the stripped roof of skylights, yet their white color keeps the focus on the space and the view, not the structure.    The columns, although seemingly random, as specifically placed to create the sensation of zoned spaces, but their nonrestrictive quality provides a flexible layout to suit the changing needs of students.
Inspiring place to design in, wouldn't you agree?
More photographs by Iwan Baan after the break.