San Francisco based IwamotoScott sent us their latest tower development produced for the Greenwich South design study led by Architecture Research Office, Beyer Blinder Belle and Architects & Planners and OPEN. Contributing architects, artists and designers included Coen + Partners, DeWitt Godfrey, IwamotoScott Architecture, Jorge Colmbo, Lewis.Tsuramaki.Lewis Architects, Morphosis, Rafael Lozano-Hemmer, Transolar Climate Engineering and WORKac.
Architects: IwamotoScott
Location: North Beach, San Francisco, CA, USA
Principals in Charge: Lisa Iwamoto & Craig Scott
Collaborators: Dan Sullivan & Blake Altshuler
Diagrams: Ryan Gollenberg
Project Year: 2010
Photographs: Craig Scott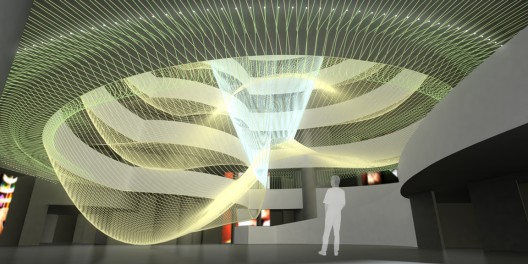 As promised, more projects for the Guggenheim's Contemplating the Void.
This time we feature Iwamoto Scott's proposal.
LIGHTCONE uses fiber-optic lines to turn the void into a light channel with different purposes:
"Architecture continually informs and is informed by its modes of representation and construction, perhaps never more so than now, when digital media and emerging technologies are rapidly expanding what we conceive to be formally, spatially, and materially possible"
- Lisa Iwamoto
During 2009 I had the chance to visit Iwamoto Scott in San Francisco, a practice lead by Lisa Iwamoto and Craig Scott. At their office I could see first hand the study models for some of the projects the firm has been involved, such as a mockup for their P.S.1 proposal, Coral Reef, or the lightweight wooden pieces that structure the massive Voussoir Cloud installation at SCI Arc. These small pieces had a lot to tell, not only about the specific project they were part of, but also their iterations.
The firm has a recognized expertise in digital fabrication, presented by Lisa Iwamoto at the AIA Convention 2009 during the Emerging Voices forum, and also on her book "Digital Fabrication" edited by Princeton Architectural Press under their Architecture Brief series.
The book presents in a clear way (with very good examples) the methods behind digital fabrication: sectioning, tessellating, folding, contouring, and forming. For most of us these words are pretty much obvious and we often use them as design principles of our projects. But to get the full scope of what they really mean, or for those that want to start understanding -and using- them, this is a recommended reading.
This villa is located in plot #43 of the ORDOS project.
Architects: Iwamoto Scott Architecture
Location: Ordos, Inner Mongolia, China
Principals in Charge: Lisa Iwamoto & Craig Scott
Project team: Blake Altshuler, Keith Plymale, Magda Melo, Sean Canty, Ryan Golenberg, Christina Kaneva
Projects Assistants: Jason Chang, Manuel Diaz, Ashley Li, Alan Lu, Doron Serban, Wei Huang, John Kim
Design year: 2008
Construction year: 2009-2010
Curator: Ai Weiwei, Beijing, China
Client: Jiang Yuan Water Engineering Ltd, Inner Mongolia, China
Constructed Area: 1,000 sqm aprox