"Three floors in a day is China's new normal," says a representative for this 57-floor skyscraper that was built in just 19 days. Known as the "Mini Sky City" tower in Changsha, the 180,000-square-meter mixed-use building was built in record speed with modular, "LEGO-like" blocks. The process also claimed to have required less materials and significantly reduced the amount of air pollution commonly caused by dusty construction sites.
A time-lapse of the construction process, after the break.
Architects: Tsushima Design Studio
Location: Changsha, Hunan, China
Client: ChangSha Vanke Ltd.
Year: 2013
Photographs: Masao Nishikawa
KSP Jürgen Engel Architekten International has been awarded first prize for their proposal of a new "urban helix" in Changsha, China, that extends public space from the city center into Lake Meixi. The concept serves as a catalyst, marking a termination point on a new street axis that culminates into a pedestrian ramp symbolically spiraling 30 meters above a 20,000 square meter artificial island.
NEXT architects has been awarded first prize in an international competition to design a pedestrian bridge for Meixi Lake in Changsha. Designed to be "more than just a connection," the footbridge will serve as a key public space for a new lake district within the Dragon King Harbor River development. Recreational, ecological and touristic programs will be integrated into the 150 meter-long, 24 meter-high elevated parkway.
One of Coop Himmelb(l)au's latest competition winning designs is the Dawang Mountain Resort near Changsha, China, a combination of an entertainment ice world with an indoor ski slope, a water park and supporting restaurant and shopping facilities. Positioned directly on top of a historical cement mining quarry pit and lake, this proposal aims to combine "striking landscape with ambitious design" in a way that could redefine the idea and aesthetics of recreation for the south-central Chinese city.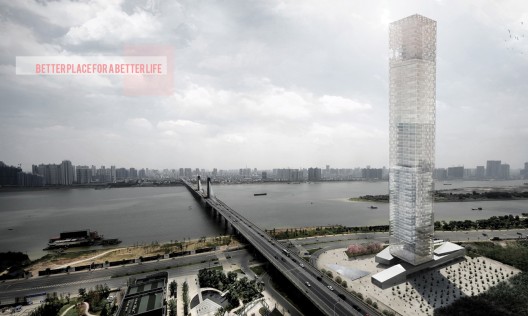 Milan-based RRC Studio's latest undertaking, the Xiang River Tower, will be an office and residential project in Changsha, a city under heavy development in China. Located near the Xiang river in a prime area of the city's downtown, the tower will dominate the city's horizon and bear a strong presence on the skyline.
Read on for the architects' description…
Coop Himmelb(l)au has come up with an incredibly unique design for the new Grand Theatre and International Culture & Art Center for Changsha, China. The site is located on the northeastern side of the newly created Changsha Meixi Lake in the Daheexi District, with the design engaging both land and water with a flowing and undulating white form of enormous scale. The architects hope to create a new cultural center that interacts with the existing natural landscape, not only visually, but scientifically by running on alternative energy sources and efficient passive energy systems to reduce environmental impact.
The architects' description after the break…
Zaha Hadid Architects (ZHA) have unveiled an ambitious cultural complex, which began to take shape in October after the project broke ground in the heart of Changsha, China. In true Hadid-fashion, the Changsha Meixihu International Culture & Arts Center defines itself by extreme sinuous curves that radiate from each of the three independent structures and links them to a pedestrianized landscape that offers a "strong urban experience", forming what they hope to be a global destination for theater and art.
The architects's description after the break…
International architecture firm Kohn Pedersen Fox Associates (KPF) recently announced that their design for the 120 million square foot master plan for Meixi Lake in Changsha, China is being realized. A new city in the West Changsha Pioneer Zone in Hunan Province, Meixi Lake is centered around a 3.85 kilometer‐long lake. Upon completion, the city will be home to 180,000 inhabitants, and will provide residents, workers and visitors sustainable neighborhoods for living, working, recreation, culture and entertainment. More images and architects' press release after the break.
Unfolding around Meixi Lake, the Meixihu Culture & Arts Centre, designed by Hans Hollein & Partner, incorporates a carefully conceived mix of functions nerved generously with waterways, underground traffic roads, and boulevards. In a prime position, overlooking the waters and the ceremony island, the project will become the largest multifunctional world class culture and art centre of international standing in the Hunan province. More images and architects' description after the break.
Steinberg Architects, an international design firm, recently announced they will manage the design of the extensive Changsha Songya Hu mixed-use project in China after winning an intensely competitive bid process. Key aspects of the project include a waterfront business district, an entertainment district, and an ecological model community mixing residences and green public spaces. More images and project description after the break.
The Northstar Changsha Delta project lies on a one square kilometer site with a large-scale urban development project occupying more than five million square meters of construction. Located east of the Xiangjiang River and south of the Liuyanghe River, the project will transform the landscape and shape the future development of north Changsha. The Exhibition Hall is the first built project of Northstar's ambitious plan, It contributes to the social and economic development of the region; recoding its implementation process while fulfilling the programmatic business and sales objectives of the development.
Architects: AZL architects
Location: Changsha, Hunan Province, China
Project Team: Zhang Lei, Zhou Suning, Wang Liang
Collaborator: Architectural Design Institute, Hunan University
Project Area: 3000 sqm
Project year: 2010
Photographs: Yao Li