Architects: Atelier d'Architecture Brenac-Gonzalez
Location: Boulogne-Billancourt, France
Area: 1157.0 sqm
Year: 2011
Photographs: Sergio Grazia
Architects: Chartier Dalix Architectes
Location: Boulogne-Billancourt, France
Area: 6766.0 sqm
Year: 2014
Photographs: P. Guignard, Cyrille Weiner, David Foessel
Architects: be baumschlager eberle
Location: Avenue Émile Zola, Boulogne-Billancourt, France
Associate Architect: Bernhardt Curk architects
Area: 20000.0 sqm
Year: 2013
Photographs: Vincent Fillon
Architects: Agence Bernard Bühler
Location: Boulogne-Billancourt, France
Area: 2,139 sqm
Year: 2012
Photographs: Vincent Monthiers, Courtesy of Agence Bernard Bühler
Architects: Hondelatte Laporte Architectes
Location: Boulogne-Billancourt, France
Project Manager: Virginie Davo
Project Team: Charlotte Fagart
Engineering: Studetech
Client: SAEM Val de Seine Aménagement
Cost: 3,744,000€
Area: 1,450 sqm
Year: 2012
Photographs: Philippe Ruault
Architects: Philippe Dubus Architectes
Location: Boulogne-Billancourt, France
Area: 4,005 sqm
Year: 2010
Photographs: Michel Denancé, Sergio Grazia
Architects: Philippe Dubus Architectes
Location: Boulogne-Billancourt, France
Area: 9,297 sqm
Year: 2007
Photographs: Sergio Grazia, Michel Denancé
The project for an office buiding in Boulogne Billancourt, France consists of the renovation of building B's existing 10,402m² surface area, the redesign of the facade taking into account the overall structure, the renovation of the technical premises, and the optimizing of office surface space. The competition winning design by Atelier Zündel Cristea is conceived with the logic of functional flexibility in which a central technical core frees the 8 floors, including the ground floor, from bearing concerns.
Built during the 1970's, building B forms part of a larger whole located at 122, avenue du Général Leclerc, in the Silly-Gallieni neighborhood. The complex is made up of 11 buildings for housing, situated in the northern section of the site, along with the two office buildings, interconnected at ground floor level via a shared lobby with accompanying spaces for businesses to the south. More images and architects' description after the break.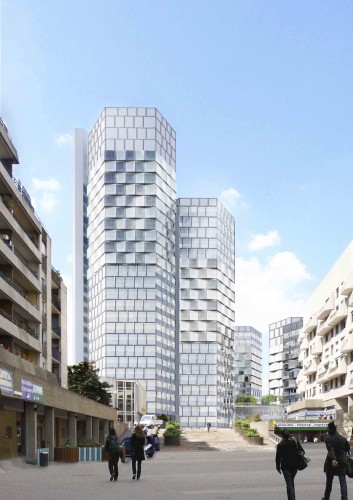 Dominique Perrault Architecture shared with us their winning proposal in the international architecture competition launched by General Electric Capital Real Estate for the requalification of the Pont de Sèvres Towers. Their design response, which could at first appear minimalist, proposes a luminous landmark for one of the most ambitious programs in the service sector of the Western Paris area. More images and architects' description after the break.
The proposals by ECDM Architectes  for the Zac Seguin consisted of both a high rise and a non high rise building which were both designed as individual elements in an urban mixed composite, where residential, commercial and green spaces combine to form a whole. In their projects, there is a firm horizontal component which proposes a frame, defining the boundaries of the park, the Seine and its emergences, punctuations designed in resonance with other high points on the bend in the river, such as the Horizons tower or the buildings to come on the Seguin Island. More images and architects' description after the break.
Jean Nouvel was chosen as the lead urban architect and coordinator for the Seguin Island project in July of 2009. Here we are sharing with you the Ateliers Jean Nouvel team master plan for Seguin Island in Boulogne-Billancourt, France.
A diverse group of programs will make up the spaces, total surface area of 300,000 sqm, including cultural, retail, social facilites, parks, gardens, terraces serving as a destination for both residents and tourists. Construction is scheduled to begin in 2010 and final completion is expected for the end of 2023.
Follow the break for a video and renderings by Ateliers Jean Nouvel.
Architects: Ateliers Jean Nouvel
Location: Seguin Island, Boulogne-Billancourt, France
Project Area: 300,000 sqm
Renderings: Courtesy of Ateliers Jean Nouvel
Architects: Chartier-Corbasson Architects
Location: Boulogne-Billancourt, France
Project Area: 1,073 sqm
Project Year: 2010
Photographs: Romain Meffre and Yves Marchand