This brief history of BIM ("the software that has disrupted traditional methods of representation and collaboration in architecture") comes to us thanks to our friend at the Architecture Research Lab, Michael S Bergin.
Building Information Modeling (BIM) is a term that has become ubiquitous in the design and construction fields over the past 20 years, but where did it come from? The story is rich and complex with players from the United States, Western Europe and the Soviet Block competing to create the perfect architectural software solution to disrupt 2-Dimensional CAD workflows.
Find out the beginnings of BIM, after the break…
Apple has released the latest version of their operating system: Mac OS X 10.8 Mountain Lion. Over 200 new features have been integrated into Lion with the intent to streamline your work and life. Some of the highlighted features include the built in iCloud that keeps all your content updated and in-sync with your Apple products, a unified notification center to help you stay updated on everything, and ready-to-go dictation that makes typing optional.
Although this all sounds great, what about software we architects use on a daily basis?
A word of advice before you upgrade:
GRAPHISOFT recently announced the release of the next upgrade to its BIM design software; ArchiCAD 16. This version of ArchiCAD provides solutions that respond to some of the most dynamically developing segments of the BIM industry. They are building components, freedom of design and energy efficiency.
The value of BIM software can be measured only by how well it is used, within a given workflow and how well a team accurately generates and shares data across project teams; ultimately managing that data throughout the building lifecycle.
On June 19th, in a live webinar, GRAPHISOFT will cover the basics of ArchiCAD and give attendees a foundation to make the most of the new tools found in ArchiCAD 16.
More after the break.
GRAPHISOFT recently released an innovative, interactive BIM communication tool for architects. The add-on for ArchiCAD 15, BIMx, is an easy-to-use mobile design demonstration tool for exploring, communicating and sharing building concepts.
Through BIMx, ArchiCAD 15 users gain unprecedented ability to share entire BIM models with anyone through an interactive community on Facebook or through iOS devices. BIMx demonstrations can be executed on a desktop computer or laptop as well. More information and some images after the break.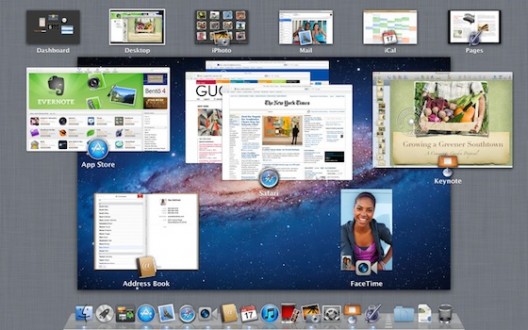 Yesterday Apple released the latest version of their operative system: Mac OS X Lion. I started using it yesterday and it works like a charm on my Macbook. At a first glance, there's a lot of focus on handling all  your applications thanks to features like Mission Control (an improved view of everything running on your computer) and Launchpad (a new way to organize your apps). Other interesting feature is Airdrop, which will allow you to easily share files with your co-workers. There is also a lot of focus on security, back up, system recovery and versions of files, that I know will be very useful for architects.
But what about the software we architects use on a daily basis? A word of advice before you upgrade:
Disclaimer: Graphisoft is the sponsor of our Software section.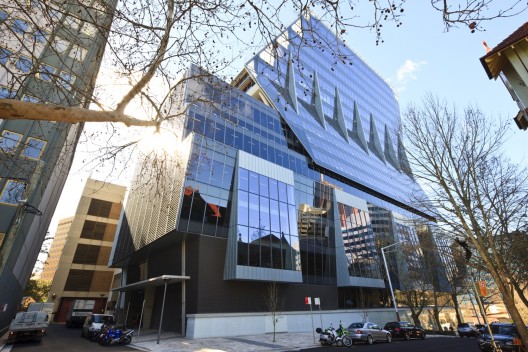 Coca-Cola Place (previously known as ARK) has won the Property Council's NSW Development of the year. This award is the equivalent of the "Oscars" for the property industry in Australia and is yet another for this 21-level iconic building north of Sydney, New South Wales in Australia.
The Property Council's Innovation and Excellence Awards is the pre-eminent property industry program in Australia. The annual awards celebrate the achievements of the sector's finest professionals and companies.
Integrated into North Sydney's heritage precinct, the form of Coca-Cola Place breaks boundaries, challenges traditions and sets new design benchmarks. It was conceived as a set of layered elements which responds to the grain of the Heritage Street, natural environment, public domain, and city skyline. Completed in 2010, it was conceived, designed, documented and built using Building Information Modelling (BIM).
More about it after the break.
Last week, we attended the AIA 2011 National Convention in New Orleans, where Graphisoft presented ArchiCAD 15, the latest version of its premium design software for architects. ArchiCAD 15 enriches architectural forms available for designers to unleash their creative minds. The new version also expands the scope of the BIM workflow to include renovation & refurbishment projects.
The evolution of forms has always walked hand-in-hand with the evolution of structures. From the simplest barrel vaults to the most sophisticated rib vaults, the architect has always aspired to combine durability, utility and beauty (Vitruvius). These very principles can be seen in the finest examples of modern architecture as well. ArchiCAD 15 expands the design capabilities of its BIM tools, including new Shell structures, to support the broadest spectrum of architectural shapes and forms found in both classical and modern architecture.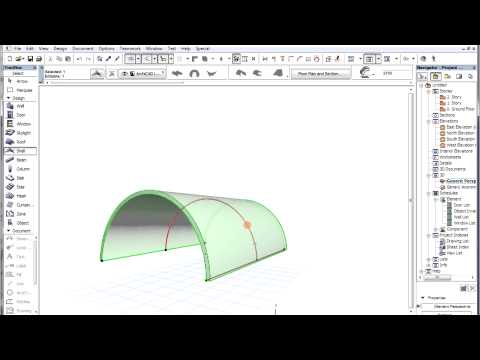 - ArchiCAD introduces the new Shell tool – enabling designers to unleash their creative minds and to create enriches architectural forms.
More features after the break.
The originator of the virtual building concept, GRAPHISOFT hosts a free one-hour webcast – "Real Time Sharing is POWER. And EFFICIENCY. And PRODUCTIVITY: The Open Collaboration Webcast" on October 21st.
The webinar will show that Open Design Collaboration with ArchiCAD enables the AEC industry to work like they want to right now. It is Interoperability Redefined, so that architecture and engineering teams can collaborate using their own BIM models in a dynamic IFC based workflow. Come see ArchiCAD engage intelligent data exchange with Revit Structure, Tekla Structure, Autodesk MEP, Revit MEP and more.
To register for the event click here. More information after the break.
Some of Shanghai's most revered architecture was designed by a Hungarian, László Hudec (1893-1958), whose works are on display at Shanghai's Museum of Contemporary Art as 3D virtual reality building explorations.
These tours are part of the museum's tribute to Hungary (through Sept. 5), which highlights that country's contributions to film, music and design. Museum patrons virtually "fly through" every nook, cranny, form, plane, space and detail of three architectural treasures that exemplify Hudec's Art Deco and Modernist style: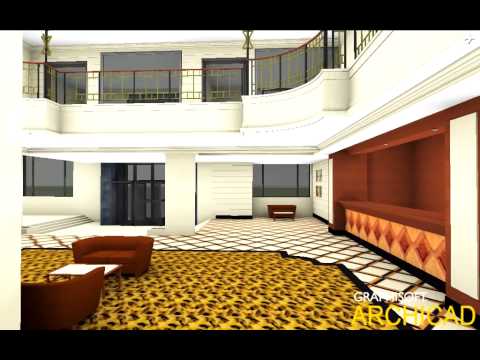 Park Hotel: At 22 stories, this was the tallest building in the Far East for decades and Shanghai's tallest building through the 1980s. Hudec was inspired by New York's and Chicago's skyscrapers, which he experienced firsthand in 1927. Completed in 1934, the Park Hotel is a masterpiece of modernism and Art Deco and a symbol of Shanghai's rapid development in the 1930's. Virtual visitors marvel at the hotel's elegant Art Deco lobby.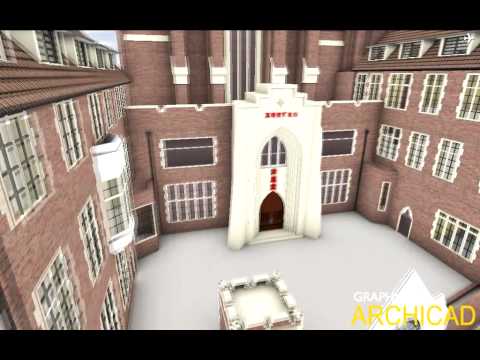 Moore Memorial Church: Re-built by Hudec in 1931, the church was originally built in 1887 to serve the Methodist community. Gothic vaulted ceilings, stone ribbing, and stained glass windows exemplify the neo-Gothic style. The bell tower on the southwest corner, at 42.1 meters, was the highest tower in Shanghai at the time. This is one of several sacred buildings that Hudec designed in Shanghai on a pro bono basis.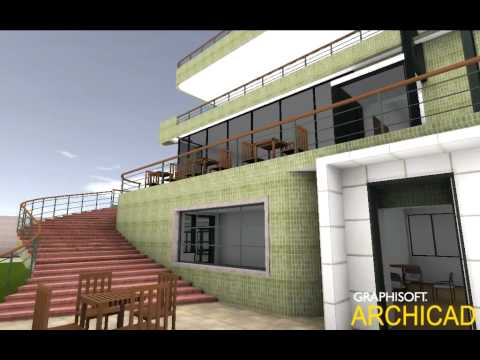 D.V. Woo House: Completed in July 1938, this was one of the most spacious and luxurious homes in the Far East at the time. Known as the "green house" after the hue of the glazed tiles that covered its surface, this residence integrates modern architecture with Art Deco. The home was famous for its staggering array of rooms, including a banquet hall, ballroom, billiard room, bar, chess room, greenhouse, and sunroom. It was also the first home in Shanghai with an elevator and air conditioning. The Italian marble staircase, copper handrail and copper radiators were all novelties at the time.
Hudec was trained in Budapest as a classical architect. A visit to the USA in 1927 shifted Hudec's vision from an eclectic, neo-Classical style first to Art Deco and then to Modernism. Hudec's transition to Art Deco helped his buildings capture the excitement, promise and glamor of Shanghai's golden age of prosperity. Hudec was one of the most interesting and culturally astute architects of the early 20th century, bridging the gap between European architecture and Chinese culture. His commercial, residential and religious buildings are especially noteworthy given that many are still in use today in their original function.
Disclosure: Graphisoft is one of our partners, sponsor of our Software section.
Graphisoft recently released ArchiCAD 14. ArchiCAD was a pioneer in BIM, a tool that has now become standard not only in terms of design and construction, but also for the life cycle of buildings. ArchiCAD has been available for ages for the Mac users, having a large install base on that platform. Their pricing program has made it affordable for new practices.
But back to this new version. Graphisoft has added several new features aiming for better, open collaboration, something very important in terms of pushing BIM as a standard tool on which different professionals can work together. In ArchiCAD 14 we find several workflow enhancements (such as IFC integration, a neutral data model not controlled by any vendor) to successfully bridge along different CAD/BIM/MEP packages, such as Autodesk and Revit, a big step towards an effective IPD (Integrated Project Delivery).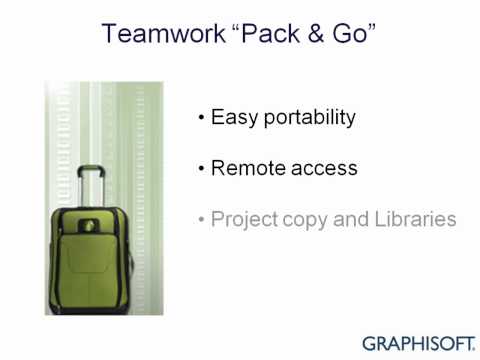 This version also includes BIM Server to further improve teamwork collaboration (64-bit version for the Mac), and Teamwork "Pack & Go" (to allow you to keep working with your team anywhere you go).
More on ArchiCAD 14 new features after the break: