Architects: LP Architektur
Location: Radstadt, Austria
Site area: 1,000 sqm
Building area: 213.60 sqm
Total floor area: 427.20 sqm
Project Year: 2010
Photographs: Volker Wortmeyer
A contemporary residential passive house that correlates with the region was the basic request of the owner. The themes of this architecture are the linear design, logical arrangement of the floor plans and the application of wood as a building material.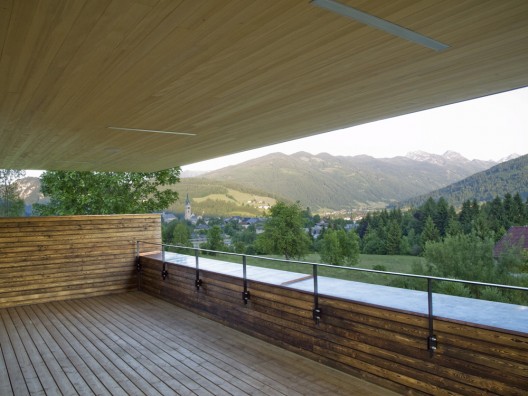 The building is integrated into a slope from south to north therefore also the inside is based on the concept of terracing. Various levels differentiate between private areas and even more intimate areas. Terraces which are located eastward and westward of the building carry the inside rooms to the outside. Thereby the correlation of the building and the environment becomes visible. Southward the structure rises above the ground and thus creates a contrast to the integrated rest of the building. The uplifted part of the building forms the entrance on the one hand and the exposed orientation with a panorama of the Alps forms the living area on the other hand. The terracing of the building finishes with the roof. Due to scaling and pitching of the roof it offers space to regenerative energy generation. The combination of façade and aperture in passive house quality gains a plus of energy hence the energetic surplus is fed to the local network. A centrifuge and controlled air-condition with heat recovery complete the energetic concept and provides the building with an innovative character in correlation with linear architecture.