Architects: Dock4 Architecture
Location: Salamanca Place, Hobart, Tasmania, Australia
Principle: Stephen Geason
Collaborator: Richard Loney
Builder: Moxy
Engineering: Aldanmark Consulting Engineers
Completion Date: November 2008
Project Budget: $200,000
Photographs: Jonathan Wherrett
Many of the restaurants at Salamanca project their clientele onto the promenade, utilizing them as a vital façade (through generous glazing and street tables). Rockwall inverts this process. With a small street presence, its entrance compresses space, with projecting bar, kitchen and services. Accepting its long, narrow proportions, it excavates haven like spaces from the depths of the building, animating space through percolative natural and synthesised light and sculpted acoustics. These unearth space from the rich narratives of its historic materiality.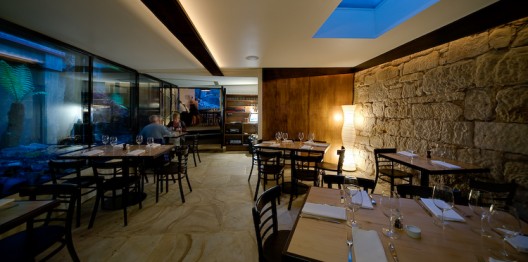 Riveted iron columns and beams, insertions of the Machine Age, frame original, eroded, un-renovated sandstone walls. Blue natural light filters through a glazed light well, spilling through primeval ferns, onto fresh ground sandstone flags. This paving arrived as ships ballast, from some mysterious foreign source, in an era when the front door and the dock coincided. The hard surfaces of this space reflect a bright and vital soundscape that expands social ambience.
Text written by Paddy Dorney.