Architect: Tabanlıoğlu / Melkan Gürsel & Murat Tabanlıoğlu
Location: Astana, Kazakhstan
Project Team: Murat Cengiz, Salih Yılgörür, Hakan Bağcı, Süleyman Akka, Nihal Şenkaya Akkaş, Mehmet Vaizoğlu, Serhat Yavuz, Arzu Çetingöz, Ahmet Çorapçıoğlu
Client: Alke – Sembol
Structural Engineer: Buro Happold (London), Arce (İstanbul)
Mechanical Engineer: Dinamik
Electrical Engineer: HB Teknik
Sports Consultant: Populous
Main Contractor: Alke – Sembol
Site Area: 232,485 sqm
Construction Area: 66,249 sqm
Hard / Soft Landscape: 194,531 sqm
Project & Construction Date: 2005-2007
Occupancy: 2009
Photographs: Cemal Emden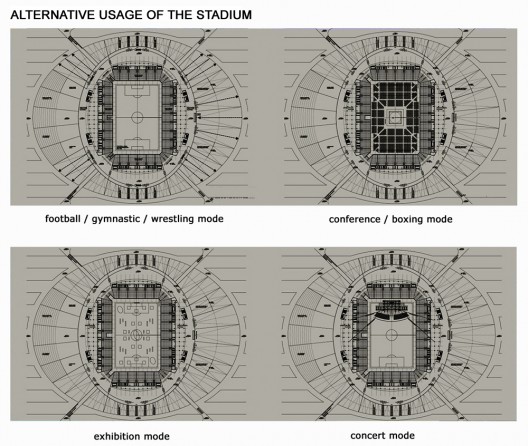 Intended to be a symbol of the burgeoning new capital of Kazakhstan, the Astana Arena has a spectacular elliptical form and a retractable roof that can be closed in harsh winter weather conditions to protect the players, the spectators and the playing surface. Located on the highway connecting the airport to the city the stadium is principally designed as a venue for soccer but it can be adapted for other sports events including the country's favourite sports – wrestling, judo and boxing. The venue, set within extensive landscaping, has quickly become a landmark in the city.
The stadium, designed on an elliptic form, is constructed on a 232,485 m² (330m x 704.5m) rectangular site. The design introduces innovative solutions adopting high technology principles for operational management, interaction with the environment and especially with harsh climatic conditions of the geography.
The 30,000 Arena was conceived as a large amphitheatre with a distinctive and instantly recognisable form when viewed from a distance and from close proximity. Essentially a two-tiered structure, the lower terrace, accommodating 16,000 seats, encircles the playing area while the upper stand on the east and west sides seats a further 14,000 spectators. There is effective separation of VIPs, spectators and players to ensure smooth access. All spectators are seated and have a clear sight line with an unobstructed view of the field of play. The playing surface is covered in h

* Location to be used only as a reference. It could indicate city/country but not exact address.