Architects: RES4 – Joseph Tanney, Robert Luntz
Location: Bloomingdale, NJ, USA
Project Architect: Kristen Mason
Manufacturer: Simplex Industries
Project Coordinator: Jason Drouse
Engineer: Lynne Walshaw P.E., Greg Sloditskie
Contractor: D Woodard Builder, LLC
Completion: 2009
Size: 2,100 SF
Photographs: RES4
Designed as a second home for a single mom and young son who live in Manhattan only 45 minutes away, this two-story single bar scheme is positioned as close to the lake as zoning allows. The result is a long linear composition oriented north south, with complementing sunrise and sunset decks to the east and west. Lake views are available from all rooms.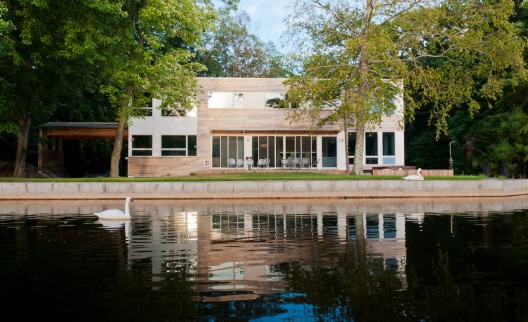 Similar to many smaller lakes in northern New Jersey, Lake Iosco is sparsely surrounded by single-family homes nestled in the woods. The specific lot is located adjacent to the lake's concrete dam that forms a water-spill creating a creek to the south. The approach weaves through the woods along a narrow road, terminating in a gently sloped drive and polycarbonate carport that frames a view of the lake upon arrival.
Entry continues as a transition from the auto-court to the east deck up a slight set of stairs marked by a concrete wall pierced with acrylic cylinders. Transmitting sunlight during the day, the acrylic cylinders become a backlit constellation triggered by motion-sensors at night. Through a glass door and large sidelight is a dump-zone compressed by a full-height freestanding volume containing a built-in bench with hooks for coats, additional storage