Approximately 400 panels of Bendheim's textured, tempered-and-laminated, blue glass rainscreen were installed as part of a renovation at the MTA train station in White Plains, N.Y., just outside of New York City.
Bendheim developed a tailored, "slim" Wall-F compression fitting for the project to achieve the required aesthetic and expedite glass installation. The miniaturized fitting was the right fit for the design and the scale of the glass panels, while still capturing as many as four glass corners at a time.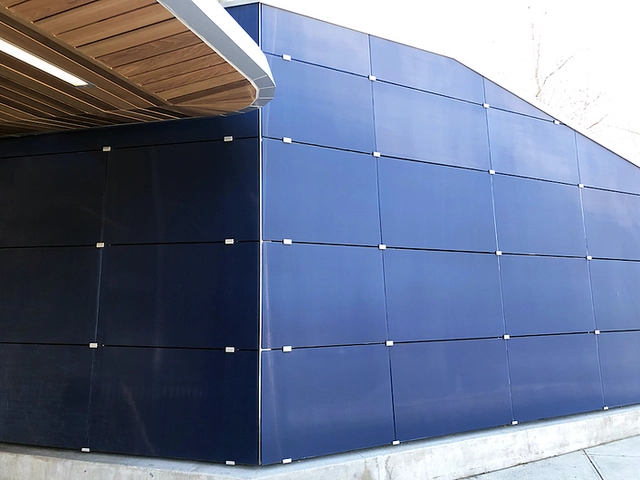 The glass features a blue ceramic frit, specified by Sowinski Sullivan Architects and the Metropolitan Transportation Authority as a match to the MTA logo color. Cladding each of the station's platform entrances, the colorful glass guides commuters to the nearest approach. In total, it covers 4,500 square feet.
While the glass provides an important visual aesthetic, the swift installation was a key decision factor. Bendheim's precision engineering and shop drawings provided installers the necessary support and on-site flexibility to bring the project to a timely close.
A steel sub frame was placed over the walls to support the glass. The fittings were attached to the steel, then the glass panels were clipped into place. The walls holding the glass were quite tall, sometimes slanted both vertically and horizontally, as well as different sizes, creating an installation challenge.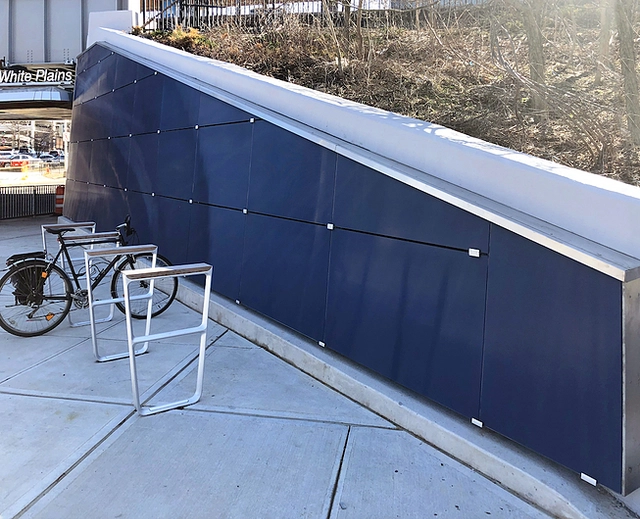 The entire renovation started in 2018 and took three years to complete. The White Plains station first opened in 1844 and is just 22 miles from New York City. It is the third largest in the Metro-North Railroad system.
Rainscreens stop more than 90 percent of wind-driven moisture and can completely transform and elevate a building's appearance. Fritted glass is extremely durable and offers multiple benefits. Produced by permanently fusing powdered ceramic colors to the glass surface, fritted glass creates colorfast, UV-stable, scratch-resistant hues for exterior and interior use. The glass can be customized with various surface textures, designs, prints and graphics, and is available in hundreds of translucent and opaque colors.