Bendheim Ventilated Glass Parking Facades comprise a range of fully customizable systems that can be specified with decorative flat glass or 3D / U-shaped channel glass. The functional, jewel-like glass facades instantly elevate the design of above-ground parking structures. By eliminating the need for mechanical ventilation and preserving daylighting, they also lower operational energy usage. From energy savings to the ability to eliminate carbon-heavy steel sub-structures, to bird-friendly glass options, these parking facades are a sustainable choice.
Additional Benefits
Natural Ventilation: Fully customizable, designed & engineered to each project to meet code requirements or to add a sophisticated textural quality to the façade
Daylighting Advantages: Translucent glass options preserve daylighting while providing privacy
Variety of Aesthetic Options: Transparent, translucent and opaque; colors, patterns, nature-forward bird-friendly designs; fully customizable panel layouts; jumbo flat glass and 3D channel glass options
Improved Safety & Security: Facilitate visibility and natural surveillance
Protection from the Elements: Prevent moisture damage; shield structures and occupants from wind and rain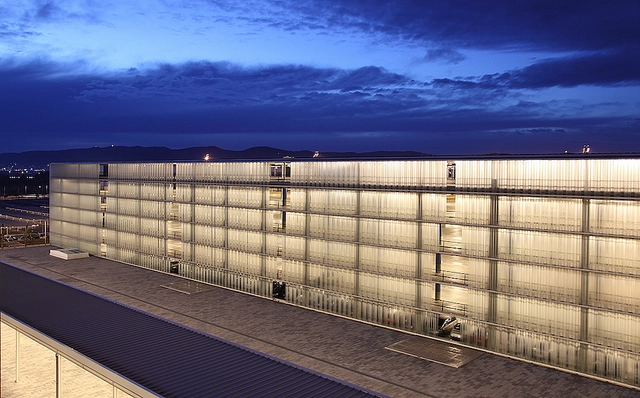 Bendheim's parking façade projects are design-assist, involving close collaboration with the architect, contractor, and installer. Tailoring the attachment system to each project helps meet its key objective, ex: faster to install, use less metal or jumbo glass panels, etc. Joint reviews of 3D models and 3D printed concepts for aesthetics and usability is an important early step in the design process, but it is founded on tested components, some of which can be found in the company's standard 3D detail drawings here.