The Bruce Nesbitt African American Cultural Center at the University of Illinois Urbana-Champaign campus is a dynamic new building located just off the main quad on a heavily traveled corner, making a bold statement about diversity and inclusion to all who pass by. The 2-1/2 story structure supports the AACC's goals of inclusion and openness while at the same time being a sanctuary of learning and support.
Designed with the help of clay product company Endicott, the building is made to "wear its identity" through the color variations of the brick façade, making it an unmistakable addition to campus. A favorite feature of many passersby, the distinctive multi-colored Endicott face bricks are a great, subtle way to say that all are welcome.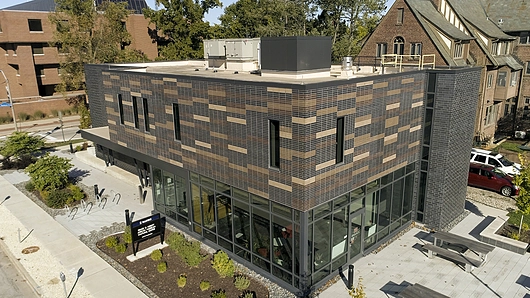 Design Concept
The previous building inhabited by the AACC was judged structurally unsound and closed in 2014 for safety reasons. Brick was chosen as the foundation from which this new legacy was to be built. Taken from the earth and hardened in kilns at temperatures exceeding 2000˚ F, brick is an exceptionally strong, natural material that is worthy of the grit, resilience and toughness of the students who pass through the doors of this hardworking, multipurpose facility.
The design is strikingly contemporary, through its use of Endicott face brick as the primary exterior surface to blend with the more traditional buildings on campus. The modular nature of brick allowed for bold color patterning – made up of Endicott's manganese ironspot, sienna ironspot, dark sandstone and light sandstone bricks – to reflect the variety of ethnicities and skin tones of the diverse student body.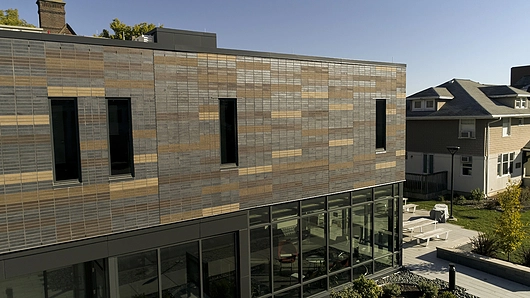 Brick Facade
The solid brick envelope of the Cultural Center expresses the strength and resiliency of the African American community, while the large glass expanses on the first level demonstrate the AACC's mission for openness and inclusiveness. It was important that the facility reflect African American heritage, while remaining consistent with the overall aesthetic of the neighboring quad and the campus as a whole.
Endicott brick is dispersed throughout the main entrance in two sections – one dark grey brick to represent the "strength and guidance" that the University of Illinois provides for its students and one in varied colors of tan, brown and grey, representing the "multi-toned hues" of students, according to project architect Dina Griffin, a 1986 University of Illinois graduate.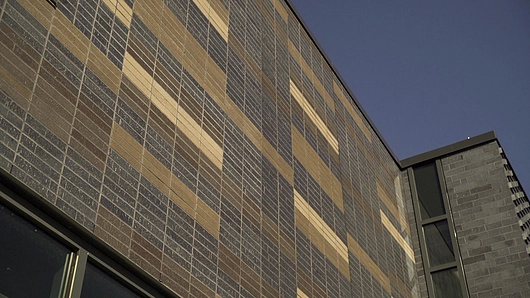 Project Details
| | |
| --- | --- |
| Location | University of Illinois campus, Champaign, IL |
| Architect | Interactive Design Architects |
| Products Used | Manganese Ironspot, Sienna Ironspot, Dark Sandstone, and Light Sandstone face bricks |
| Brick Sizes | Norman (H: 11-5/8", W: 3-5/8", D: 2-1/4") Utility (H: 11-5/8", W: 3-5/8", D: 3-5/8") |
| Brick Manufacturer | Endicott Clay Products, Fairbury, Nebraska |
FOR MORE INFORMATION
Please contact Marketing Director John Ragland (jragland@endicott.com) with any questions or requests.