Located on the southern coast of Spain in El Puerto de Santa Maria, near Cadiz, this beachside villa was designed by Basilio Iglesias Lobatón in a bold, contemporary form. The driving idea behind the design was to create a 'blank canvas' that would allow the personality and life of the inhabitants to shine. The form of the building is composed of robust interlocking cubic forms.
When it came to choosing the materials for the home, the architect wanted natural and hard-wearing products that could withstand the harsh coastal environment. This lead to the specification of Neolith® sintered stone for the building's interiors and exteriors. The architect was captivated by the brilliance of the Arctic White and the intense darkness of Basalt Black and saw how these slabs could bring his vision to life. The intensity and clarity of these products allow for a dramatic clean facade and moments of intense contrast and depth in the interior.
Inspired by the idea of a house on a pedestal, the architect specified Iron Frost for the interior and exterior flooring which allows the viewer to conceive of the house in the round as if it were a sculptural object. Muted Beton, an interpretation of poured concrete was specified in the bedrooms, for the vanity tops and a statement wall, with urban Iron Grey used in the bathrooms for wall cladding, vanities, and shower cubicles.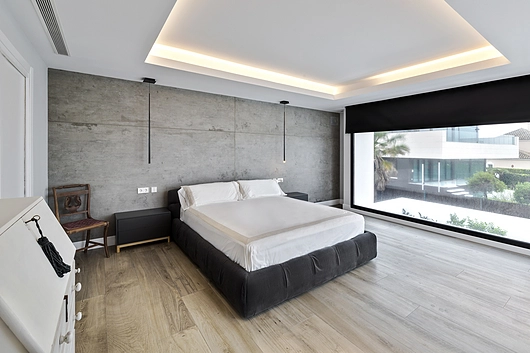 One of the most impressive features of the property is a cantilevered staircase in Iron Corten, which when view against painted white walls on one side and clear glass paneling on the other, creates the illusion each step is floating in mid-air.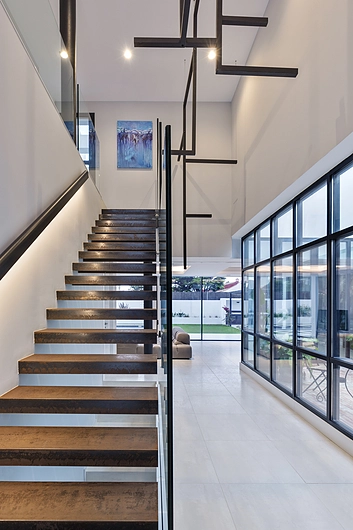 On the ground floor, in the spacious living room, a monolithic fireplace in Basalt Black immediately draws the eye, contrasting against the combination of white walls and floor-to-ceiling windows which surround the space. This carefully curated use of Neolith deftly adds character to Casa Cadiz's interiors without feeling superfluous.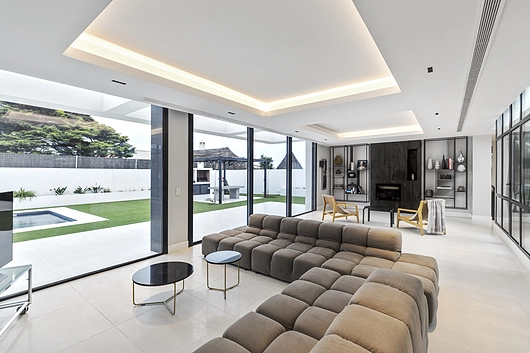 Beyond the obvious aesthetic triumph of the Neolith® in Casa Cadiz, the material was also a practical choice. The slab sizes and relative light-weight of the product allowed for easy installation and the seamless joints were able to create sharp angles, providing precision in the details that allow the whole project to shine.
About Neolith
All Neolith slabs are 100% natural and produced in a carbon-neutral environment, making them appropriate for specification in any professional or residential surfacing application. Neolith is also a safe and hygienic material, never compromising on performance and visual appeal.