With a unique elevated positioning and open weave pattern, the brick facade of this landmark arts center extends the building's airy design to the exterior. Supporting the brick screen wall is a system of stainless steel rods running through specially cored brick. The facade wraps around the entire second level to maximize natural light.
The façade bricks provided by Endicott provide a dramatic exterior character with cutouts and articulating patterns made possible by the rod system. High sheen iron ore additives in the brick create playful blue/gray hues that appear to change with the weather conditions.
Use of Brick
A widely applied material in the hurricane-prone region of Southeast Texas, brick is used in buildings throughout the Rice University campus in Houston. Taking it to new levels in this elevated screen wall design required close collaboration between the brick manufacturer Endicott and the project architect.
To accommodate the stainless rods, special oversized 1-15/16" coring in the brick was needed without sacrificing load strength, fatigue specifications, and other critical performance properties. Known for its superior hardness along with aesthetic quality, the selected Endicott brick was formed of Nebraska clay and then fired using a special burn in a closely monitored process to meet tight dimensional tolerances and to draw out the deep black color.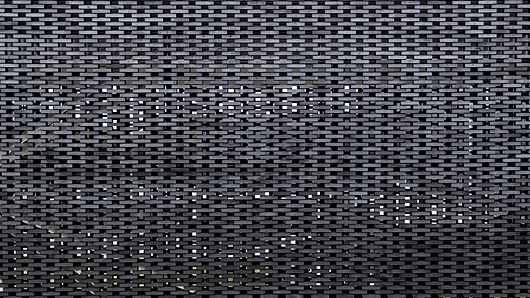 Structural Integrity and Aesthetics
To the university's Moody Center for the Arts executive director, Allison Weaver, the aesthetics of changing brick hues and unique woven design are a perfect complement to the center's desire to be seen as "changing and experimental" in its programming. Visitors of the Rice University campus have taken note of the unique, elevated screen-wall application of brick, making it a popular stop on the campus tour.
Design and Construction
| | |
| --- | --- |
| Location | Moody Center for the Arts, Rice University |
| Architects | Michael Maltzan Architecture, Los Angeles |
| Brick Manufacturer | Endicott Clay Products, Fairbury, Nebraska |
Project Highlights
Elevated screen walls feature an open weave brick pattern supported by stainless steel rods
Brick made with oversize coring to accommodate the rods while withstanding structural load requirements and resistance to fatigue
The result of a special burn with iron ore additives, the dark yet reflective surface of brick was chosen to punctuate the design with blue/gray hues that change with the sun and sky