Faced with an aging building, a 150-year-old church community in Marysville, Kansas decided to build a new facility with the strength and durability to last another 150 years. Built in the Gothic style to complement the old church with more than 120,000 reddish-brown bricks from Endicott, some reaching 113 feet into the sky, the structure honors the style of churches built by the German immigrants who settled in northern Kansas.
Use of Brick
For a project that needs to combine beauty and functionality, bricks are ideal; fired in a closely monitored process to optimize hardness and coloration, the sheen and warmth of the deep reddish-brown bricks correspond nicely with the architecture seen around the Marysville area. The bricks, infused with iron ore for added character during a special burn, provide striking visual counterbalance to three large stone medallions adorning the façade, numerous pointed arches, and four ornamental bronze doors.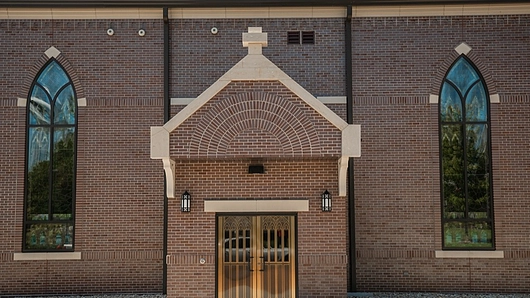 Freedom of Expression
The nuances and complexities of the unique design required building materials that gave the architect and the developer the freedom to realize any vision. Endicott was chosen to provide the exterior bricks thanks to its ability to produce a variety of unusual brick shapes including dentils and soldiers and its reputation for visual consistency.
Design and Construction
| | |
| --- | --- |
| Location | St. Gregory the Great Catholic Church, Marysville, KS |
| Architects | HTK Architects, Overland Park, KS |
| Brick Manufacturer | Endicott Clay Products, Fairbury, Nebraska |
Project Highlights
The long-term economies associated with brick's durability and superior thermal mass qualities make it a sound investment for non-profit organizations
Dentils, soldiers and other unique brick shapes were an important factor in realizing the architect's vision
The brick and other building materials selected for this project are reflective of the region's architectural style
The deep, rich earthy tone of the impressive brick structure strikes a majestic pose along the Marysville skyline