The successful transformation of the chateau in Hostavice undertaken by the Opálka design studio has given both the modern school and kindergarten an unusual degree of lightness and elegance.
The objective of the architects when designing the private school and kindergarten was to connect the exterior with the newly renovated interior and create a space for children where they will thrive thanks to the use of unconventional elements which develop their creativity and playfulness, have a stimulative effect, and give the children a certain degree of freedom.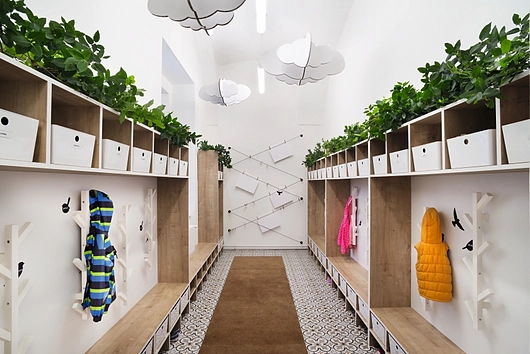 Even though the school and the kindergarten have many things in common, the approach to the renovation was different. At the kindergarten, it was necessary to ensure that the smaller children did not feel engulfed by an area with high ceilings, and also to respect the principles of Montessori teaching. Elements and materials of a predominantly natural character were used. Clouds are a repetitive design motif in the kindergarten area, while figures of birds have been used as a symbol of freedom. The internal areas of the school reflect the progressive method of teaching and they are not only child-friendly, but they also provide facilities for parents and teachers in the form of a café and a common room. Chill-out areas and places for teachers, children and parents to meet, such as the café and the gymnasium/common room for example, help to create a friendly atmosphere.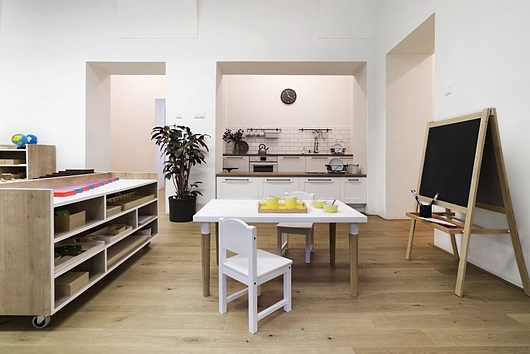 EGGER materials were used in the renovation, such as F094 ST15 Black Copper Cipollino Marble on the island bench and U999 PM/ST2 Black PerfectSense Matt on the high cabinets. H3303 ST10 Natural Hamilton Oak was used on the wooden elements, the tables, the cabinets and the drawers. The W1000 ST38 Premium White decor was chosen for the white elements.