Located in Universitetsholmen in Malmö, Sweden, Malmö Live is a cultural hub that hosts a large symphony hall, flexible hall, conference hall, hotel, and public open spaces. Designed by the architects Schmidt Hammer Lassen and opened in May 2015 it has been recognized as one of Sweden's premier live music venues.
During the design phase the architects and acousticians - Akustikon - set the objective for the concert hall to achieve the best acoustics in the world. To achieve this, the architects commenced working with Gustafs two years before construction began on site. Gustafs worked together with Akustikon and the architects to produce a wall cladding that comprehensively met the high requirements set for the project.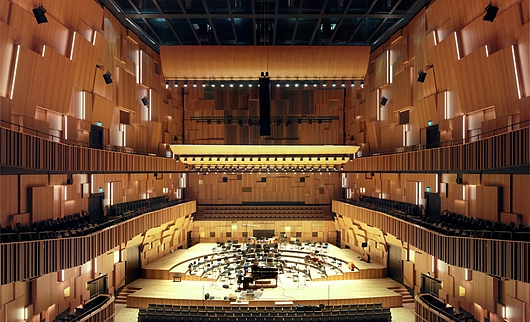 Gustafs Wood Veneered Panels were selected for the interior cladding material as they met the fire requirements with a Reaction to Fire of A2 – s1. The main design challenge was to produce wooden boxes – called Mondrian elements- to reflect the sound in the concert hall.
Gustafs managed to manufacture the bespoke cladding solution, Mondrian elements, according to the Akustikon's demand on a certain density/m² while at the same time maintaining the high fire classification required for the concert hall. The Mondrian elements are mounted all over the interior surfaces, adjusting the sound and reverberation time to achieve optimized acoustics in the concert hall.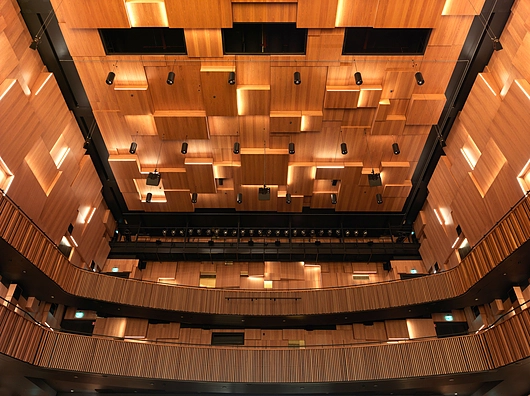 The wall and ceiling panels consist of a mix of Gustafs Wood Veneered Panels and the customized Mondrian elements. On the balustrades, Gustafs Linear Rib has been installed together with Gustafs Acoustex acoustic felt. All wood claddings have been veneered with Gustafs oak veneer combined with some brass coated wall panels as a tribute to the brass band.