The Hollaender Manufacturing Company produces a wide array of architectural hand railing systems, from non-welded aluminum rails to stainless steel structural glass. Some of their best-known railing designs include Interna-Rail®, Speed-Rail®, and Newman by Hollaender™ (formerly known as Newman Brothers Railing).
Railing Choices for Industrial Applications
These railings meet all current OSHA codes for railing and can be offered with toeboard as required.
Easy Maintenance
Hollaender's Interna-Rail® aluminum railing system, with metal infill panels in either wire mesh or perforated metal, is extremely popular in industrial applications of all types. Maintenance people tend to find the clear anodized finish on aluminum easier to maintain than typical welded, painted steel that is often used for budget reasons.
Non-Guard Rails
For truly industrial, non-public access areas, where a " guard " is not required, Hollaender offers 2 and 3 line Interna-Rail® and Speed-Rail® that are standard throughout US manufacturing areas.
Glass Railing
If glass if required, Hollaender offers laminated, tempered glass railings that are much safer than typical single sheet, monolithic glass.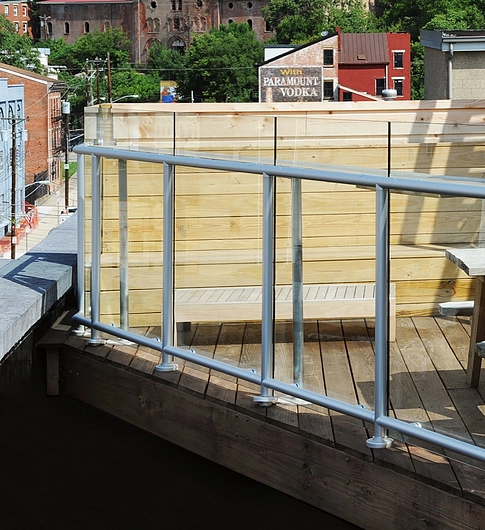 Handrails
In handrail applications, which can carry a lot of traffic and take a lot of physical contact, Hollaender offers both anodized aluminum and stainless steel handrail. Stainless steel is even more durable than anodized aluminum in very heavy traffic applications.
Infill Materials
Infills are available in a wide variety of materials, all of which have been tested to meet the IBC code. Hollaender offers both monolithic and laminated tempered glass, along with resin panels in both PETG and acrylic. Metal panels can be supplied in mesh, perforated or a more exotic pattern. Material for these metal panels ranges from aluminum to e-coated steel to stainless steel.
Finishes
Handrail finishes are available in a wide range of different patterns, colors, and textures. Aluminum systems can be anodized with clear and bronze options, or powder-coated in almost any color imaginable. Hollaender steel infill panels are produced in the same wide array of colors but are first e-coated to protect against corrosion. The stainless steel rail systems look great with a direction or circular brush, and panels can also be supplied in a bright dip.