A vertical slat solution with 20-mm joints was installed in a terraced house in Spain using Stoneo panels from ULMA, an engineered stone material of great quality for the exterior cladding.
The Challenge
The challenge for the project was to develop a facade with vertical slats that would join the house frameworks and could adapt to the existing distance between windows.
Solution
The architects: Taller SAU, found a solution by installing large picture windows from wall to wall and installing slats using a tubular profile, placed in front of the windows to filter out the light. Thus the facade system consisted of a vertical cladding solution with recast 20-mm joints combined with the vertical slat system using ULMA Stoneo panels. The solution emphasizes the verticality of the design and has been well-received as an aesthetic choice.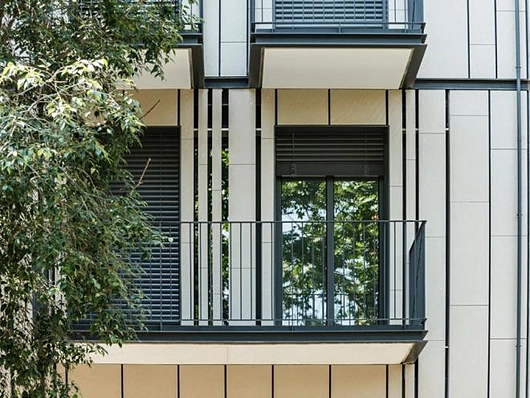 Personalized Colours
For the building skin, a stone-like texture was selected: the Earth texture, developed with a personalized color to match the color palette specified by the Barcelona City Council. Stoneo is a very versatile material, meaning that the ULMA could provide personalized panels to the client's needs, in terms of texture and color.
PROJECT DATA
| | |
| --- | --- |
| City | Barcelona |
| Country | Spain |
| Products used | Vertical cladding solution |
| Project type | New Construction |
| Architects | Taller SAU |