| | |
| --- | --- |
| Project Location | The Bronx, New York |
| Year Completed | 2015 |
| Façade Area | 225,000sf |
| Panel Quantity | 1,873 |
| Owner | City of New York |
| Architect | SOM |
| General Contractor | Tishman Construction |
The Public Safety Answering Center II serves a critical role within New York City, providing an ultra-secure location for handling 911 emergency calls. Completed in 2015, PSAC II supplements another call center facility located in downtown Brooklyn.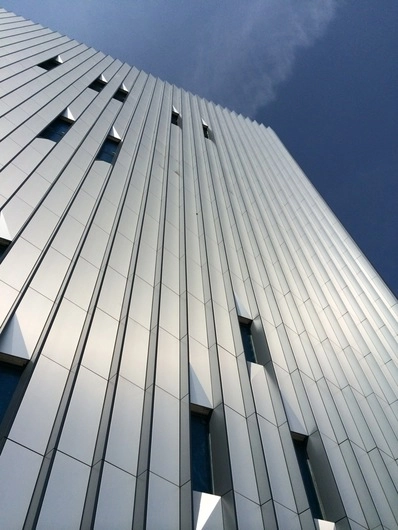 Over 450,000sf of state-of-the-art space features blast-resistant walls with narrow, glazed openings across the façade. Architect SOM clad the facility in a sustainably sourced brushed-aluminum rain screen, whose form and color palette enliven the monolithic cubic form.
Engaging in a Design-Assist process, Island worked with SOM to develop a lightweight cladding system that could be lifted into place as a series of large-format panels for attachment to the concrete shear walls. More than 11,000 custom aluminum panels were fabricated to negotiate the complex geometric relationship between the punched windows and the faceted rain-screen scope.
To prevent the visual hierarchy of a prefabricated system from reading across the façade, Island worked to detail cladding-to-cladding aluminum joints at the same visual dimension as the overall panel-to-panel joinery.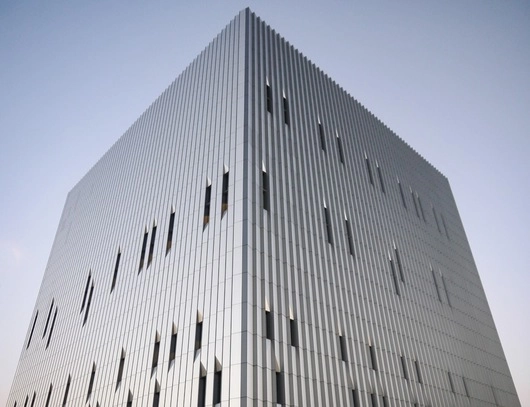 Prior to delivery, each pre-finished and pre-glazed panel underwent a full QA/QC inspection, before loading onto weather-protected flatbed trailers, at Island's New York-based factory.

To solve the complex on-site logistics of installing over a concrete shear wall, each facade panel was erected by a roof-suspended monorail system, with units hoisted to preset anchors embedded within the structure.