The new headquarters of UniEléctrica, a renewable energy company based in Córdoba is the result of an extensive refit that has turned an old building from the 1940s into one of the city's few smart, energy-efficient buildings. The new building has a clean, modern, futuristic appearance and has been refurbished to enhance its energy performance and house four offices that were previously scattered around Córdoba.
ULMA polymer concrete ventilated facade was used in the new national headquarters. The ventilated facade was a key factor in the building's energy performance and aesthetic design.
VENTILATED FACADE
The ventilated facade is a building cladding system that leaves a ventilated chamber between the coating and the insulation of a wall. It is considered the most efficient system for resolving the building's insulation, eliminating the unwanted thermal bridges as well as the condensation problems and so achieving an excellent thermal-hydrometric behavior of the building.
ENERGY EFFICIENCY
The architect, Fernando Cantarero chose ULMA facade panels because of the importance of reducing consumption and cutting the CO2 emissions that can be generated over a long period of time since a building can last 100 years.
ULMA's polymer concrete facade panel system helps reduce the bioclimatic needs of the building because the ventilated chamber provided in the construction system avoids thermal bridges and functions as an insulating and protective air chamber. Condensation problems are also avoided which helps the thermal-hygrometric behavior of the building. This leads to several advantages:
Financial savings
A significant amount of energy consumption is avoided by the reduced need for air conditioning in hot months and the retention of heat in the winter
Comfort levels
Thermal comfort levels remain at 21º throughout the year which provides a great advantage to unheated homes.
Environmental credentials
The responsible consumption of energy resources is facilitated by the reduction of emissions while respecting the environment
ULMA Panels Used
Vanguard Water texture M24 (in four orientations)
Vanguard Earth Slate P03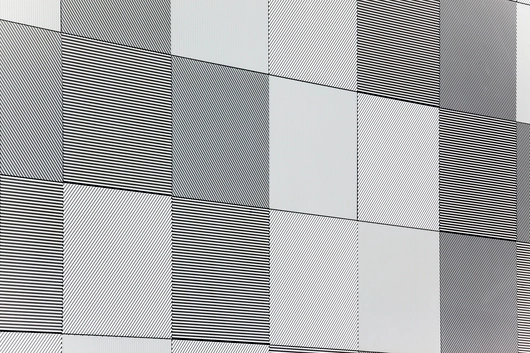 AESTHETICS
From an aesthetic point of view, the earth and water textures have been chosen to give the old building some personality and freshen up its image. The water panels change the image of the building as the position of the sun changes and laying them in four different orientations creates an optical effect that remains dynamic throughout the day.