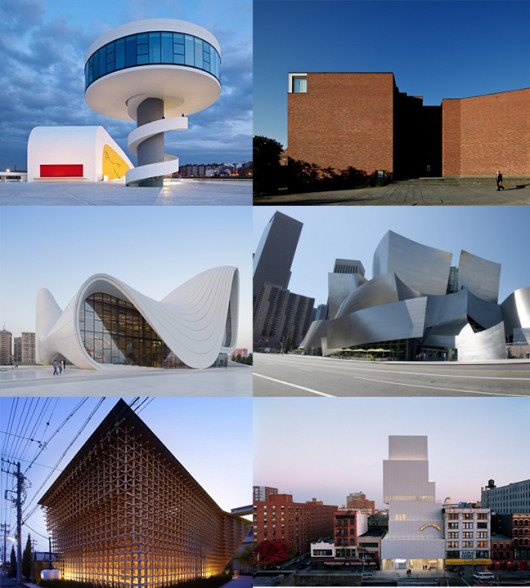 In case you missed it, we're re-publishing this popular post for your material pleasure. Enjoy!

To celebrate the recent launch of our US product catalog, ArchDaily Materials, we've coupled six iconic architects with what we deem to be their favourite or most frequently used material. From Oscar Neimeyer's sinuous use of concrete to Kengo Kuma's innovative use of wood, which materials define some of the world's best known architects?
Architects: Minarc
Location: Venice, Los Angeles, CA, USA
Design Team: Tryggvi Thorsteinsson, Erla Dögg Ingjaldsdóttir
Year: 2011
Photographs: Art Gray
Michael Green is calling for a drastic paradigm shift in the way we build. Forget steel, straw, concrete and shipping containers; use wood to erect urban skyscrapers. In a 240 page report – complete with diagrams, plans, renders and even typical wooden curtain wall details – Green outlines a new way of designing and constructing tall buildings using mass timber, all the while addressing common misconceptions of fire safety, structure, sustainability, cost and climate concerns. 
Although known for their iconic skyscrapers of glass and steel, SOM has begun to redefine our idea of the high-rise by pushing for wood as an alternative material for tall buildings. Not only could it help solve the worldwide problem of housing for those who are or will live in cities, but wooden skyscrapers could also address climate change by reducing a building's carbon footprint. Click here to read about the structural system that SOM has come up with and don't check out our previous coverage on the equally fascinating Timber Tower Research Project!
Kyoto-based architects Kentaro Takeguchi and Asako Yamamoto of Alphaville Architects have completed a small guest house for tourists visiting the sacred Koyasan (Mt. Koya) in Wakayama Prefecture, Japan. The 96 m2 (1,033 ft2) building contains bedrooms, capsule-style dormitory rooms, a bar, and lounge. Between the bar, hallway, and lounge, 2 x 4 and 2 x 6 timber frames are exposed inside at varying intervals to act as partitions
This video was provided by JA+U.
Back for its fourth year, the creative camp Hello Wood was held last month in Hungary, set in the countryside north of Lake Balaton. At Hello Wood, 120 young designers and architects worked with leading experts to create installations which approach issues of society and community in architecture, ideas encompassed by this year's motto "Step Closer!" Twelve teams had one week to create these installations using timber as their primary material, with the projects being judged and a winner awarded at the end of the week.
Read on to find out about the installations, and which one was judged the winner, after the break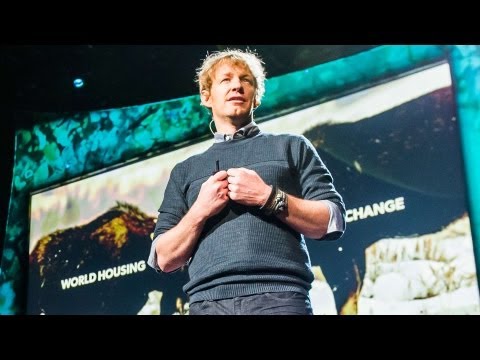 Building a skyscraper? Forget about steel and concrete, architect Michael Green says build it out of wood. As he details in this intriguing talk, it's not only possible to build safe wooden structures up to 30 stories tall (and, he hopes, higher), it's necessary.
Read more about Green's 'Case for Tall Buildings' here and share your comments below. 
Have you ever wanted to create delicate, complex shapes from plywood, but can't because it's too stiff and unforgiving? Well all that might soon change, thanks to Milan-based design studio MammaFotogramma. They have created a type of flexible, 'Woodskin' triangular tiles of Russian plywood.
Read more about Woodskin after the break…
This stunning installation, created by Swiss sculpter Vincent Kohler, beautifully deconstructs the log. Titled "Billon", the 110 x 100 x 300 cm piece is made of wood, polystyrène, and résine.
Architects: Despang Architekten
Location: Göttingen, Germany
Architects In Charge: Günther Despang/Martin Despang
Project Architects: Philip Hogrebe/Jörg Steveker
Area: 512 sqm
Year: 2010
Photographs: Jochen Stüber, Olaf Baumann
The Association of Collegiate Schools of Architecture (ACSA) is pleased to announce TIMBER IN THE CITY: Urban Habitats Competition for the 2012-2013 academic year. The competition is a partnership between the Binational Softwood Lumber Council (BSLC), the Association of Collegiate Schools of Architecture (ACSA) and the School of Constructed Environments at Parsons The New School for Design (SCE).
The program is intended to engage students and recent graduates, working individually or in teams to imagine the repurposing of our existing cities with buildings that are made from renewable resources, offer expedient affordable construction, innovate with new and old wooden materials, and provide healthy living / working environments.
A small group of diverse students participating in the inaugural AA Visiting School Eugene were given the responsibility to design and build something that would enhance and reflect the forest, within a ten-day timeframe.
More on the Camera Obscura after the break.
The Headquarters Krogmann in Lohne-Kroge, Germany, by Despang Architekten investigates the numerous characteristics and fundamental opportunities inherent within wood and exhibits a modern approach to the craftsmanship of traditional German vernacular. Designed as a new corporate center of operations for the woodworking company Krogmann,  this new office would need to succeed not only in handcrafting a new image for them, but also serve as a catalyst for future growth while showcasing their ability as 'makers' in the field of construction.  Having worked as the builders for several projects for Despang Architekten, their choice to retain them as the design architects for their own project was a natural extension of an already solid relationship built upon the dedication to quality and progressiveness. As an extension of this article, we also had the opportunity to speak with Principal and University of Hawaii Associate Professor Martin Despang about the process involved in the making of this project.
More details and our Q&A with Martin after the break.
A wood-based nanomaterial composed of cellulose nanocrystals and cellulose nanofibrils is being evaluated at the Forest Products Laboratory, in support of a project at the Army Research Laboratory in Aberdeen, Maryland. The material, presumably stronger than Kevlar, is being produced to create clear composites as reinforced glass for clear applications.  US Forest Services has opened a $1.7 million pilot plant in Wisconsin to develop the wood-based nanomaterial, whose future applications may include windshield and high performance glass.
Under development for three years, the material has the potential to be the strongest and optically clearest version of celllulose nano-fibrils.  Because wood is a renewable resource, the Forest Products Laboratory is optimistic that as the material enters the market, it will help reduce fossil fuel consumption and greenhouse gas emissions, while promoting industry growth in rural areas.
Reference: Architect Magazine, Forest Products Laboratory
HelloWood - a creative, professional and social program with a message that mobilizes more and more young people – was organized for the 3rd year by MOMEline – designworks, together with its new partner Reflekt social architecture studio.  The week-long creative camp included 200 Hungarian and international students who worked together to realize social and cultural spaces for eight north-eastern Hungarian communities.  The social mission of the project was showcased at Sziget, Europe's Best Major Festival.  Cameron Sinclair, the co-founder of Architecture for Humanity, commended HelloWood's inspirational initiative for aspiring to social change with thoughtful design for marginalized communities.
Join us after the break for details on some of the projects.