The Phoenix Central Library stands as an iconic structure that straddles Interstate 10 as it passes through the Margaret T. Hance Deck Park Tunnel in Phoenix, Arizona. Designed by Bruder DWL Architects with ongoing work by Will Bruder+Partners in 1995 to house an expansive volume collection of 1,000,000 within 280,000 square feet, it has also served as a catalyst to the local community and fostered a sense of pride. It features numerous details that enhance the overall user experience and incorporates strategic building tactics that respond to the harsh Sonoran Desert. More details after the break.
Starting today, one of Arizona's most well-known architecture firms will no longer be will bruder+PARTNERS. After a successful 17-year history, the practice has branched into two independent firms with diverse architectural offerings due to a "natural evolution of individual and collective goals relating to firm size, design methodology and management." Together, the internationally respected firm has created landmark buildings throughout the state, including projects such as the Burton Barr Library and the Agave Library. And now, each will go their separate ways as the firm has split into Will Bruder Architects and WORKSBUREAU.
Continue after the break to learn more about each firm.
The Kimball Art Center design proposal by Will Bruder+PARTNERS focuses on the nature of "exhibition" in the context of history. Taking a cue from the "colorful prehistoric petroglyphs and pictographs" of Utah's canyons along with its abundance of formally expressive Victorian architecture, the proposal takes on the role of expression and education through color and craft. This sensitivity to the history and propogation of exhibition is instantly understood with the facade walls of Main and Heber Streets.
Follow us after the break for more…
In 1976, art enthusiast Bill Kimball transformed the 1929 Kimball Bros automotive garage into a non-profit community center for the visual arts, now known as the Kimball Art Center. Located in the heart of downtown Park City, Utah, the non-profit center serves as a gathering place for individuals to experience art through education, exhibitions and events. The aging historic building is in need of restoration and an addition that will allow the organization to increase their educational outreach and enhance the quality and scale of the exhibitions, while maintaining free admission to the public.
BIG, Brooks + Scarpa, Sparano + Mooney Architecture, Tod Williams and Billie Tsien Architects, and Will Bruder + Partners LTD are the five architects selected to submit final proposals for the transformation of the Kimball Art Center.
Continue after the break to watch each firm's introductory presentation.
The crescent plan of the house derives its form from topography and landscape, embedded in the hillside and similar to the gentle curvature of the Northern California hills. Structures are placed for maximum preservation of native vegetation, including specimen Coast Live Oak and Madrone trees. Several landmark trees become focal points at entry or in foreground views. The simple volumes, clad in pre-weathered pewter-gray zink, are intended to recede into the texture of the landscape.
Architect: will bruder+PARTNERS
Location: California, USA
Project Area: 6,500 sqf
Photographs: Bill Timmerman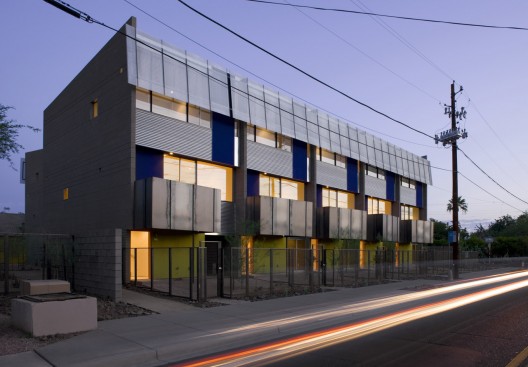 Approached from its north façade along Whitton Avenue, owners, neighbors and visitors are welcomed to Mezzo through a native desert garden. Site benches and weathered welded wire mesh fences enhance this natural environment and define the exterior spaces of the project. Sandblasted concrete pale green masonry site walls work within this composition to further delineate shared and private areas.
Architect: will bruder+PARTNERS
Location: 3438 North 12th Street, Phoenix, Arizona, USA
Project Area: 17,250 sqf
Project Year: 2008
Photographs: Bill Timmerman
Imbedded in a dramatic rock outcrop overlooking a natural, year-round, swimming hole, the Pond House is a bridge to two unique and disparate ecosystems: the Sonoran Desert and its local riparian microcosm. As a modestly scaled 165 square meter weekend retreat, the Pond House also bridges the metropolitan intensity of Phoenix, thirty miles south, with an idyllic oasis of desert calm and contemplation.
Architect: will bruder+PARTNERS
Location: Cavecreek, Arizona, USA
Project Area: 2,300 sqf
Photographs: Bill Timmerman
The architecture of Loloma 5 is a thoughtful and sophisticated acknowledgement of the traditional and modern roots of its Old Town Scottsdale context—a place with pride in its false-front, covered boardwalk, and "old west" friendly downtown image. The project creates a live/work environment in the heart of Scottsdale that celebrates both the historic and physical context of the place.
Architect: will bruder+PARTNERS
Location: 3707 North Marshall Way, Scottsdale, Arizona, USA
Project Area: 7,700 sqf
Photographs: Bill Timmerman
The new Hercules Public Library is conceived as a community gathering place and a functionally efficient vessel of knowledge and discovery. Rooted in the landscape and traditions of the town and region, the library draws from diverse eastern and western cultures—tied to the climate of courtyard missions, Eastern gardens, and Northern California.
Architect: will bruder+PARTNERS
Location: Hercules, California, USA
Project Area: 20,162 sqf
Project Year: 2006
Photographs: Bill Timmerman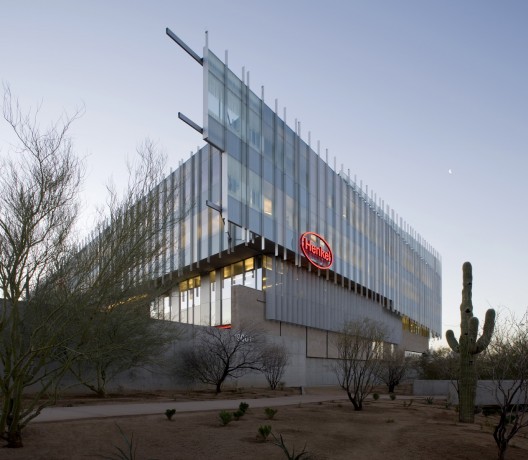 Sited on a compact sub-5 acre parcel in a developing urban area of Scottsdale, Arizona, the new Dial/Henkel headquarters will be an innovative collaborative center, completely integrated into its broader context of the Sonoran desert. The building is conceived as a crystalline cloud floating over a desert mesa, a graceful presence at the prominent intersection of Scottsdale Road and the 101 freeway. The four story structure is comprised of two levels of glass curtain wall, environmentally shaded by a double ceramic frit, above two levels clad in aluminum panels, deeply textured plaster, and native Ashfork sandstone.
Architect: will bruder+PARTNERS
Location: Scottsdale, Arizona, USA
Project Area: 348,000 sqf
Project Year: 2008
Photographs: Bill Timmerman
This house is designed as a vessel of personal discovery for two real estate professionals with an educated passion for modern architecture and their two sons. Gracefully embracing the topographic fold of a desert wash, the house focuses on the northeasterly view of the McDowell Mountains in the distance.
Architect: will bruder+PARTNERS
Location: Paradise Valley, Arizona, USA
Project Team: Will Bruder, lead design; Eric Weber (project manager), Katherine Hogan, Chris Balzano, Dan Clevenger
Project Area: 4,440 sqf
Project Year: 2007
Photographs: Bill Timmerman
The design of this 25,405 sqf branch library for the City of Phoenix addresses issues of excellence and affordability in sustainable design. Impacted within a Planned Shopping Center in north Phoenix behind a gas station, car wash, fast food restaurant, and supermarket, the Library's construction and material pallet quietly draws from, and (re)presents, the language of its retail neighbors. Stacked bond concrete masonry units and glass enclose the simple rectangular volume of a hard-trowelled concrete floor with carpeted 'area rugs', green sandblasted cmu walls, exposed gang-nail trusses, glu-lam beams, steel pipe columns, and sparingly used painted gyp-board interior partitions.
Architect: will bruder+PARTNERS
Location: Phoenix, Arizona, USA
Project Area: 25,410 sqf
Project Year: 2009
Photographs: Bill Timmerman