Dalibor Vesely, a celebrated architectural historian, philosopher and teacher, died this week in London aged 79. Over the course of his teaching career, which spanned five decades, he tutored a number of the world's leading architects and thinkers from Daniel Libeskind, Alberto Pérez-Gómez and Robin Evans, to Mohsen Mostafavi and David Leatherbarrow.
Vesely was born in Prague in 1934, five years before the Nazi occupation of Czechoslovakia. Following World War II, he studied engineering, architecture, art history and philosophy in Prague, Munich, Paris and Heidelberg. He was awarded his doctorate from Charles University (Prague) having been taught and supervised by Josef Havlicek, Karel Honzik, and Jaroslav Fragner. Although later he would be tutored by James Stirling, it was the philosopher of phenomenology Jan Patočka who, in his own words, "contributed more than anyone else to [his] overall intellectual orientation and to the articulation of some of the critical topics" explored in his seminal book, Architecture in the Age of Divided Representation, published in 2004.
New York-based firm HWKN have revealed the design for what is to become the University of Pennsylvania's latest hub for entrepreneurs, researchers, and innovators. Dubbed "The Pennovation Centre," the project is the first major development within the Pennovation Works, and will occupy a 58,000-square-foot footprint on the campus' south.
A rejuvenation of the former DuPont laboratory, it is hoped that The Pennovation Centre will become an "iconic landmark" for pen, providing a "dynamic environment" for innovation in varied fields.
At last week's Mextrópoli conference we spoke with Winka Dubbeldam about the challenges of architecture education. We also asked her to elaborate on why she thinks architecture should embrace industrial design tools. Watch the short clip to hear Winka's thoughts on making technology a more integral part of our built environment.
Winka Dubbeldam, Assoc. AIA, is the founder and principal of Archi-Tectonics, and is Professor and Chair of the Graduate Department of Architecture at PennDesign, Philadelphia.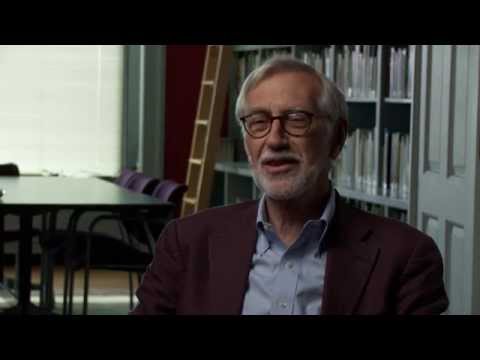 The Cultural Landscape Foundation recently launched its newest documentary as part of the ongoing Oral History series, this time focusing on the ideas and career of Laurie Olin, a recipient of the National Medal of the Arts and one of the greatest landscape architects of our time. Olin's influential work as a practitioner, educator and author over the past forty years has helped to guide the future of landscape architecture and shape urban life around the world.
In continuing with our coverage of the research of the GRASP Lab based out of the University of Pennsylvania, this recent TEDTalk 2012 outlines some of the unique opportunities that can be explored and possibly implemented in the near future with robots that fly. From an architectural and construction perspective, a wide variety of tasks can be accomplished. While still only on a small scale, the demonstrations in the video showcase a myriad of diverse abilities that are achievable.  The quad rotor robots are able to navigate complex geometry through the use of onboard laser scanners and cameras. The video also demonstrates the ability of these robots to work together in swarms for tasks such as assembling a scale building based on a programmable blueprint. Watch the video to see what the future may hold for a fully automated construction site.
With the guidance of their instructor Matthias Hollwich, students Andreas Tjeldflaat and Greg Knobloch from University of Pennsylvania's School of Design have proposed an alternative to the traditional prisons seen throughout the United States. The innovative high-rise penitentiary acknowledges the fact that nearly two-thirds of the 14,000 inmates released annually from New Jersey correctional facilities will return to prison within five years. 499.SUMMIT offers a solution that intends to reverse that statistic and help inmates successfully transition back into society.
Continue after the break for more.
Architect: Erdy McHenry Architecture
Location: Philadelphia, Pennsylvania
Structural Engineer: The Harman Group
Mechanical Engineer: PHY Consulting Engineers
Civil Engineer: Pennoni Associates, Inc.
General Contractor: Intech Construction
Project Area: 170,000sqf
Project Year: 2009
Photographs: Peter Kubilus, Roger Swingle, Tommy Holt
Immersive Kinematics, a new research group at the University of Pennsylvania, shared with us their newly launch website. The research agenda expands the roles of architecture and engineering focusing on integrating robotics, interaction, and embedded intelligence in our buildings, cities, and cultures.
It owes much to the unique commitment from the School of Engineering as a partner and collaborator beyond the classical roles of architect and engineer. We've just started working, and will have more uploads to come with expanded research. The group offers a class teaming architecture and engineering students in mechatronic projects.
Check out their website here.
In recognition of his contributions to architecture in both theory and practice Fumihiko Maki was recently named the 2011 AIA Gold Medal Winner. Maki, arguably one of Japan's most distinguished living architects, will be honored with the award in New Orleans at the AIA National Convention.
"He has a unique style of Modernism that is infused with an ephemeral quality and elegance which reflects his Japanese origin. What stands out most about Mr. Maki is the consistent quality of his work at the highest caliber and the creation of ineffable atmospheres; his buildings convey a quiet and elegant moment of reflection," colleague Toshiko Mori, FAIA, said of Maki.
Also noteworthy is Fumihiko Maki's close working relationship with each employee. Forty architects, urban planners, and administrative personnel, make up the staff of Maki and Associates, which is the type of working environment where each member is involved in and responsible for all aspects of projects. Maki himself is at the head of each commission and maintains the leadership role through to completion, including construction supervision. Established in 1965 Maki and Associates throughout its 42 years has been based in Tokyo, Japan. Maki studied at the Harvard University Graduate School of Design and Cranbrook Academy of Art, but has spent the majority of his life in Japan.
Examples of Maki's work include:
The Spiral in Tokyo, Japan
The Yerba Buena Center for the Arts in San Francisco, California
The Kaze-No-Oka Crematorium in Kyushu, Japan
Triad in Nagano, Japan
The Annenberg Public Policy Center at the University of Pennsylvania in Philadelphia, Pennsylvania
Maki is the 67th AIA Gold Medalist and joins a prestigious list including Frank Lloyd Wright, Louis Sullivan, Renzo Piano, I.M. Pei, Cesar Pelli, Santiago Calatrava and last year's recipient, Peter Bohlin, FAIA.
He has received numerous awards including the Pritzker Architecture Prize in 1993.